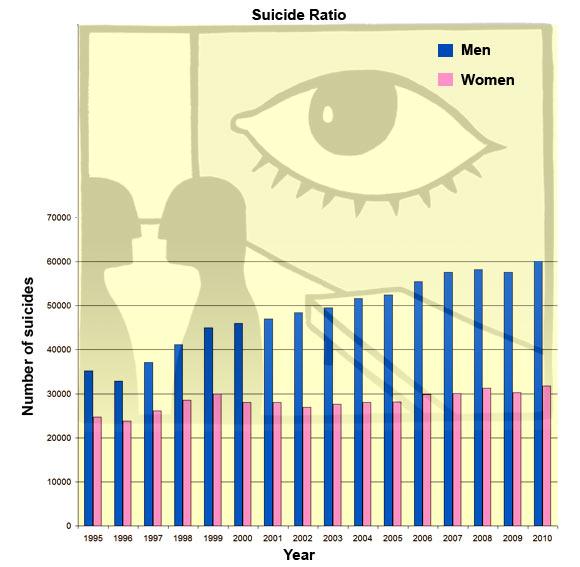 A report by the National Crime Record Bureau shows that in the year 2010, 168 men ended their lives everyday. Vicky Nanjappa reports.
If one were to go by the report released by the National Crime Records Bureau, it seems that in the year 2010, men in India were the weaker sex. In other words, more husbands committed suicide than wives. 
Statistics reveal that last year 61,453 married men committed suicide in India while the number of married women who committed suicide was almost half, 31,754. The statistics was only slightly better for 2009. That year, NCRB statistics show, 58,192 husbands killed themselves as compared to 31,300 wives.
The NCRB is a wing of the ministry of home affairs. Going by its report for the last two years, the suicide rate among men has gone up by 5.6 per cent while that among women has risen by 1.4 per cent.
An analysis of the suicide data shows that every 8.5 minutes a man commits suicide somewhere in India. In other words, in 2010, 168 men killed themselves every day.
The rate of death for the male is higher in other areas like accidental deaths as well, the NCRB data shows. In 2010 the overall death rate among men was higher than that for women. In the age group below 14 years, 1640 died either due to suicide or accidents, with the corresponding figure for girls being 1490.  
In the 15-29 age group, 26,387 men died from suicide and accidents compared to 21,238 women.
However, it is in the 30-44 age group where the statistics turns grim for men: 30,444 victims against 14,402 women.  
In the 45-59 age group too the statistics is similar, 20,768 men against 7,121 women.
Virag Dhulia, a men's activist from Bengaluru who runs several 'save the male' campaigns, explains that despite the efforts of groups like his, the message is falling on deaf ears, and blames what he calls "unfair laws targetting men" for this statistic.
"The whole issue is because men are subject to inhuman and unconstituional laws such as Section 498 A of the Indian Penal Code wherein an uninvestigated complaint by a wife against her husband and his family can land the entire family in jail or the Domestic Violence Act, wherein the husband can even lose his hard-earned property owing to a simple complaint of domestic violence, even without a fair trial," he says. 
"Under Section 304B, the husband's entire family can be put behind bars without trial or investigation if the wife dies an unnatural death within seven years of marriage," Dhulia adds. "Then there is Section 125 of the CrPC under which the husband is treated as a free ATM to pay maintenance to his wife irrespective of fault."
"No man wishes to end his life but he is left with little option when all he sees around himself are expectations from him and a complete reluctance to accept his limitations," states Dhulia.