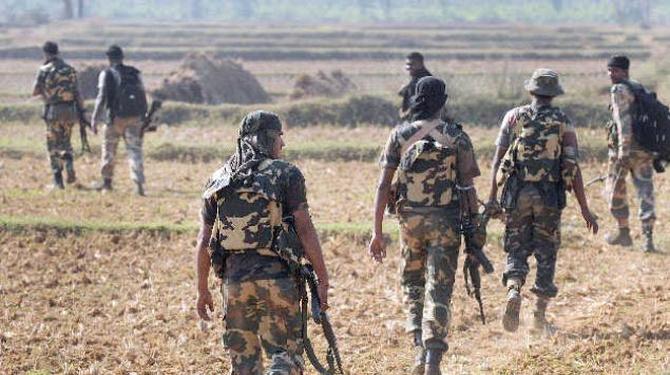 Eight Naxals, including six women, were gunned down in an encounter with security forces in Chhattisgarh's Bijapur district on Friday, the police said.
It was a joint operation of the Chhattisgarh police, the special anti-Naxal Greyhounds unit of their Telangana counterparts and the Central Reserve Police Force, a senior police official said in Raipur.
The security forces did not suffer any casualty in the encounter, he said.
Friday's operation comes in the wake of another joint operation of the Greyhounds force and the Chhattisgarh police in Bijapur district last month, in which 10 Maoists had been killed.
Early on Friday morning, gunfight broke out on a remote hillock under the Ilmidi police station limits of Bijapur district which borders on Telangana, Chhattisgarh Special Director General (Anti-Naxal Operations) D M Awasthi said.
Acting on specific intelligence, teams of the Greyhounds, the CRPF and, Chhattisgarh Police's Special Task Force and District Reserve Guard (DRG) had launched operations in forests along the inter-state border, around 500 km from Raipur, since the night of April 23, he said.
When the security forces were cordoning off the forested hillock, 13 km from Ilmidi, on Friday morning, the gun-battle broke out, he said.
The exchange of fire lasted for about two hours following which the Naxals fled from the spot, the DG said.
"During the search, bodies of eight ultras, including six women, were recovered. All of them were in uniforms," Awasthi said.
Besides, an SLR rifle, a .303 bore rifle, four .12 bore guns, a single-barrel muzzle loading gun, a .315 bore gun, three hand grenades, six rocket launchers and Maoist literature were seized, he said.
A few more Naxals were injured in the encounter, but the other ultras managed to drag them away from the spot, Awasthi said, adding, "No harm was reported to any personnel of the security forces in the gunfight."
Bodies of the slain Naxals were airlifted to Bijapur town by an Indian Air Force chopper and the process to identify them was underway, he said.
The rebels were reportedly active in Usoor and Basaguda areas of Bijapur district, and once they are identified, it can be found out which Maoist squad they were part of, Awasthi said.
According to a senior police official, the Greyhounds and the Telangana police's intelligence unit played a crucial role in this operation, a first in this area.
Another joint anti-Naxal operation is being carried out by the STF, DRG and CRPF in the core Naxal areas of Sukma district, and it will continue for a few more days, he said.
In early March, 10 Maoists, including seven women, were killed in an encounter during a joint operation of the Greyhounds and Chhattisgarh police in Bijapur district.
Earlier this week, at least 39 Maoists were killed in the operations carried out by police in Maharashtra's Gadchiroli district, which also borders on Bijapur.
Image only for representation.