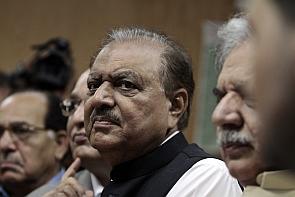 Nine candidates on Wednesday filed nominations for Pakistan's presidential election, with the ruling Pakistan Muslim League-Nawaz's India-born nominee Mamnoon Hussain emerging a clear frontrunner for the poll to be held on July 30.
Hussain, a close aide of Prime Minister Nawaz Sharif, went to the Islamabad high court with PML-N leaders and submitted his nomination papers.
"I will be the president for everybody. I will resign from my party office if I become president," Hussain told reporters. Iqbal Zafar Jhagra filed papers as the PML's covering candidate. Among the candidates who filed nominations were Raza Rabbani of the opposition Pakistan People's Party and six independents.
Hussain, a leading businessman from the port city of Karachi, is expected to easily win the poll as the PML-N has a clear majority in the electoral college comprising members of parliament and the four provincial assemblies.
Born in 1940 in the historic city of Agra, he belongs to the Urdu-speaking ethnic group that migrated from India during partition in 1947. Hussain is an old loyalist of Sharif and remained with the PML-N during the regime of former military ruler Pervez Musharraf, who exiled Sharif to Saudi Arabia and created a new party by breaking the PML-N.
He served as governor of Sindh province for a short period during June-October 1999 and lost the post after Musharraf led a military coup against Sharif. After scrutiny of the nominations, the final list of candidates will be issued on July 27. The presidential election was earlier scheduled for August 6 but the supreme court on Wednesday directed the election commission to hold it on July 30.
The new president will be sworn on September 8 and will replace incumbent Asif Ali Zardari.
Picture: Pakistan Muslim League-Nawaz's India-born nominee Mamnoon Hussain
Photograph: Faisal Mahmood/Reuters