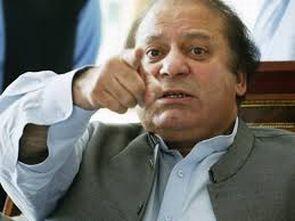 Nawaz Sharif is expected to be sworn in for a record third term as Pakistan's prime minister Wednesday with a very small cabinet comprising close aides shortly after he is formally elected to the post.
Sharif's election in the National Assembly or lower house of parliament is a foregone conclusion as his Pakistan Muslim League-Nawaz party has over 180 members in the 342 member strong House.
The election of the prime minister will be done by a division of the house.
63-year-old Sharif's nomination papers for the election to the post were submitted by PML-N leaders Ishaq Dar, Khwaja Asif and Abdul Qadir Baloch this afternoon.
Contesting the election against Sharif are Javed Hashmi of the Pakistan Tehrik-e-Insaf and the Makhdoom Amin Fahim of the Pakistan Peoples Party, which led the previous government. Their nomination papers were also filed Tuesday.
Sharif is expected to retain the crucial foreign affairs and defence portfolios with himself for his third stint as premier.
Though reports have suggested that less than 20 ministers will be sworn in along with Sharif on June 5, PML-N insiders told PTI that the cabinet could be limited to only 8 to 10 members and would comprise only close aides holding key portfolios.
"At a later stage, the prime minister could expand the cabinet after the (Islamic month) of Ramzan. In the initial phase, only top PML-N leaders and close aides of Mr Sharif will be accommodated in the cabinet," said a PML-N leader who did not want to be named.
Sources said Sharif is expected to keep his cabinet small for various reasons, including the new government's desire to cut spending and lobbying within the party for key portfolios.
"All groups within the party and influential leaders will have to be accommodated. Then there are leaders from Sindh and Khyber-Pakhtunkhwa provinces, where the PML-N is not in power, and they will also have to be taken care of," a source said.
Sharif, served as premier during 1990-1993 and 1997-1999 but was ousted from office before he could complete his term -- once on corruption charges and later because of a military coup led by Pervez Musharraf.
After being deposed in 1999, he was jailed and sent into exile to Saudi Arabia.
Veteran diplomat Tariq Fatemi, who served as Additional Secretary in the Prime Minister's Office in 1998-1999 during Sharif's last term as premier, is tipped to be appointed as adviser on foreign affairs to the prime minister, sources said.
Fatemi has assisted Sharif in his recent meetings with foreign envoys and visiting leaders like US Special Representative James Dobbins.
His wife Zahra Wadood, a prominent social worker, was nominated by the PML-N to one of the reserved seats for women in the National Assembly.
However, sources said Fatemi has expressed an interest in being made Pakistan's envoy to the US, a position currently vacant after the previous incumbent, Sherry Rehman of the Pakistan Peoples Party, resigned following the PPP's defeat in the May 11 polls.
Fatemi served as envoy to the US for three months in 1999 but could not even present his credentials at that time.
Senior PML-N leader Chaudhry Nisar Ali Khan, widely regarded as a hawk with close links to the military establishment, is a front-runner for the post of interior minister.
PML-N leaders had earlier opposed Khan's bid to be named foreign minister, sources said.
Khwaja Asif, a 63-year-old former banker, is expected to be given charge of the new energy ministry that will be formed by combining the power and petroleum and gas portfolios while Sharif's close aide Ishaq Dar will be given the finance portfolio, sources said.
Both men are expected to play a key role in tackling Pakistan's energy crisis and economic meltdown.
Other PML-N leaders expected to take oath as ministers on June 5 are Pervaiz Rashid, Ahsan Iqbal, Khurram Dastagir Khan and Khwaja Saad Rafique.
Image: Reuters