India, and not Europe, should enjoy the status of being Pakistan's largest trading partner in order to boost economic growth in the region, European Union Ambassador Lars-Gunnar Wigemark has said.
Noting that the EU is Pakistan's largest trading partner at euro 8.2 billion euro, Wigemark said: "But Pakistan's largest trading partner should not be the EU, rather it should be your neighbours, in particular India."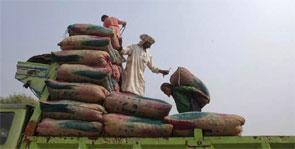 Regional economic integration in South Asia, he said, is a priority for the EU.
The incoming PML-N government should enhance trade and business with India and implement competition laws to improve Pakistan's economic condition, he suggested while addressing an international conference on 'Role of competition in fostering trade and investment' in Islamabad on Wednesday.
PML-N chief Nawaz Sharif, who is set to become premier for a third term next month, has already signalled that he intends to increase trade ties with neighbouring India to boost Pakistan's economy.
The previous Pakistan People's Party-led government failed to meet a deadline to phase out a negative list regime of trade and give India Most Favoured Nation-status in December last year because of pressure from industrial lobbies and right wing and religious groups and parties.
"To realise the potential for trade and investment in the region, a strong competition system will be essential," Wigemark told the conference attended by experts from India, Canada, the US and Europe.
"Pakistan should seek to become a regional champion of competition, opening its borders for trade and investment," he said.
The new government has a strong political mandate that should be used to remove practices hampering economic growth, foreign investment and trade.
"I have one message for the incoming government – be inspired by the recent elections and create a truly level economic playing field for business in Pakistan…The incoming PML-N-led government should rid the country of cartels, price-fixing, distorting subsidies and kickbacks," Wigemark said.
Reforms in key areas, including the energy sector, will have to be high on the new government's agenda, he added.
"Everyone agrees that Pakistan must address these economic challenges, including insufficient governance in many sectors of the economy," he said.