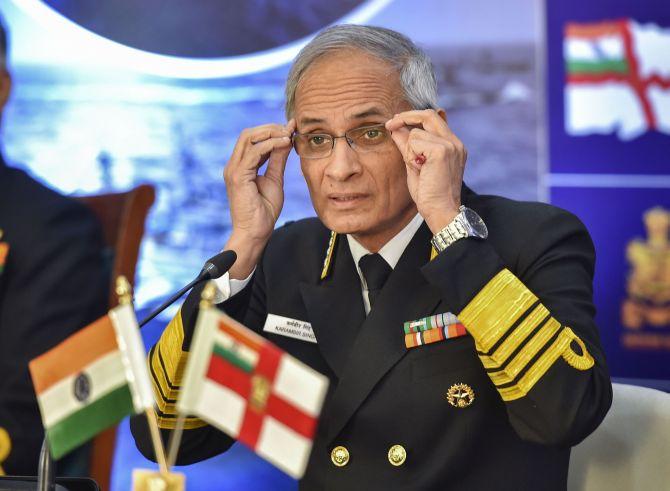 Navy Chief Admiral Karambir Singh on Tuesday said a Chinese naval ship was driven away from India's Exclusive Economic Zone in the Andaman sea recently, asserting that such activities will be dealt with sternly.
Military sources said the research ship Shi Yan 1 forayed into Indian waters in September but was forced to retreat after it was suspected to be involved in spying.
The ship entered the area without Indian Navy's prior permission, they said.
"Our stand has been that if you do anything in our region, you have to notify us or take our permission," the Navy Chief said at a press conference without elaborating further on the incident.
The sources said the ship was found carrying out some research activities in the Indian waters.
On China's increasing forays into the Indian Ocean Region, Admiral Singh said seven to eight Chinese ships are usually present in region at any point of time.
Since 2008, there has been a permanent presence of the Chinese Navy in the Indian Ocean region, mostly in the form of an anti-piracy escort force.
"It is a fact that they are present (in the Indian Ocean Region). There are oceanographic research vessels which are operating. They have been given certain areas for deep sea mining. On an average 7-8 Chinese ships are available in this area," said the Navy Chief.
There have been considerable concerns in India over China's growing presence in the region. India has been trying to expand maritime cooperation with countries of the region including Sri Lanka, Maldives, Indonesia, Thailand, Vietnam, Myanmar and Singapore, primarily with an aim to check Chinese assertiveness.
Asked why China has not been invited to the Milan maritime exercises along with 41 other countries, the Navy Chief said only like-minded nations will be part of it.
In response to a question on the 'Quad' -- comprising the United States, India, Australia an Japan -- being seen as a step to contain China, he said the grouping does not have a military role at the moment.
Indian Navy will play a stabilising role in the Indo-Pacific region.
On maritime cooperation with neighbouring countries, Admiral Singh said from a conservative figure of eight exercises in 2015, the Navy is now participating in close to 30 bilateral and multilateral exercises.
"In addition, under the government of India's overall ambit of 'Neighbourhood First' policy, the Navy also undertook Joint EEZ patrols of Maldives, Seychelles and Mauritius as well as coordinated patrols with Bangladesh, Myanmar, Thailand and Indonesia," he said.
Admiral Singh also said that the Navy is procuring 41 ships and its long-term plan is to have three aircraft carriers.
Speaking at an annual press conference, Admiral Singh also assured the nation that the Navy is fully prepared to deal with national security challenges.
On the challenges in the neighbourhood, he said no action of any other player in the region should impact us.
"We are ready to work with like-minded nations in the region," he said.
Seven to eight Chinese ships are usually present in Indian Ocean region, Admiral Singh noted.
The Navy chief also said India is playing a stabilising role in the Indo-Pacific region.
Admiral Singh said that the force is fully committed to 'Make in India' vision and underlined that since December 2018, close to 88 per cent of Indian Navy's contracts and acceptance of necessity (AoN) by value have been concluded with or accorded to Indian vendors.
"Navy is fully committed to 'Make in India' vision. Since December 2018, close to 88 per cent of our contracts and AoN by value have been concluded with or accorded to Indian vendors," he said while addressing the Navy Day press conference in New Delhi.
Highlighting that the Navy is at the forefront of self-reliance since independence, the Navy Chief said, "Our commitment to this pursuit is seen by the fact that out of 50 ships and submarines currently under construction, 48 are being built in Indian shipyards.
"These include the aircraft carrier Vikrant, P-15 bravo class destroyers, P-17 alpha class stealth frigates, Offshore Patrol Vehicles and Scorpene Class submarines."
The last of P-28 ASW Corvette is scheduled for delivery by next year and the delivery of four P-8I maritime reconnaissance aircraft is scheduled in 2021, informed Admiral Singh while adding that 'we also contracted for 16 ASW shallow watercraft and 36 aircraft which include 12 Dorniers, 16 ALH and 8 Chetak'.
In the backdrop of China's aggressive naval expansion, Admiral Singh flagged concerns over decline in the Navy's share in defence budget from 18 per cent in 2012-13 to 13 per cent in 2019-20 and sought higher allocation for his force.
Touching upon the Navy's modernisation initiative, he said the force envisages induction of three aircraft carriers so that two carrier battle groups (CBGs) are available for deployment in the Indian Ocean Region at all times.
The Navy Chief said the first indigenous aircraft carrier (IAC) will be fully operational by 2022 and it will have a fleet of MiG-29K aircraft.
He also said the broad contours of IAC 2, to be constructed in India as a 65,000 tons CATOBAR carrier with electric propulsion, have been formulated and the case will be processed for approval soon.
On resource allocation to the Navy, he said in the face of shortages, emphasis has been on 'prioritisation, rationalistion and economy of expenditure'.
"The Navy's share of the defence budget has declined from 18 per cent in 2012 to approx 13 per cent in 2019-20. While we have projected our requirement to the government, we remain committed to progress force modernisation, using the available resources optimally," he said.
"Our hope is that we will get some more funds," the Navy Chief added.
Asked about the massive expansion of the Chinese Navy, he said they are moving at the pace they are capable of and 'we are moving at the place we are capable of'.
With inputs from ANI