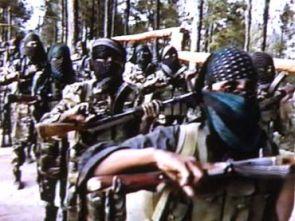 Two armed gangsters, who were gunned down by police in an encounter in Nalgonda district of Telangana, were active members of banned Students Islamic Movement of India and had been involved in a string of terror acts that included triggering of bomb blasts across the country, police said on Sunday.
The slain men were identified as Mohammed Aijajuddeen, a native of Kareli in Narsinghpur district of Madhya Pradesh and Mohammed Aslam alias Bilal who hailed from Ganesh Talai in Khandwa, Telangana DGP Anurag Sharma said in a release.
Aijajuddeen and Aslam were killed in a shootout with police on Saturday near Janakipuram in Nalgonda district. A police constable was killed and a sub-inspector and a circle inspector were injured in the fierce gun battle.
According to police, they were part of a group of seven undertrials who had escaped from Khandwa jail in Madhya Pradesh in 2013.
Sharma said the duo were also suspected to be involved in triggering a blast in Bengaluru-Guwahati Express at Chennai Railway Station in May last year in which a woman was killed and 14 others injured.
They were also believed to be involved in setting off an explosion in front of Faraskhana police station near famous Dagdusheth Halwai Ganesh temple in Pune in July last year.
They were identified with the help of finger prints, facial identifications and assistance provided by the Madhya Pradesh police, the DGP said in a release.
"Aijajuddeen and Aslam have been the active members of SIMI in Madhya Pradesh and were involved in acts of terror in India," Sharma said.
They are also suspected to be involved in several cases of dacoity, bank robberies and murders among other offences, along with other accused in different parts of Madhya Pradesh, Uttar Pradesh, Odisha and Telangana, he said.
The duo were on the run since they opened fire and killed a police constable and a Home Guard personnel who were part of a police team that was checking vehicles for suspicious passengers a Suryapet bus stand in Nalgonda on the intervening night of April 1 and 2.
A circle inspector and home guard personnel were injured in the firing, the DGP said, adding the duo had also tried to stop a car at gunpoint and injured one civilian when the driver of the car sped on.