'I said his accepting the suit from me was a big honour in itself, and it wasn't important for me what he did with it after wearing it.'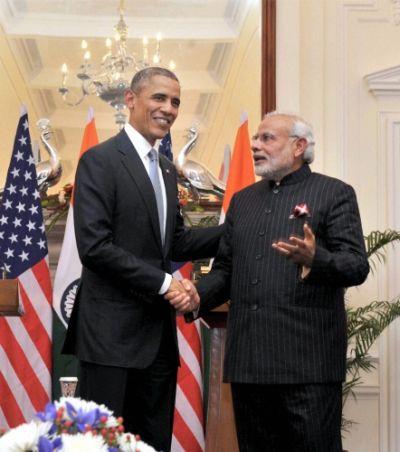 Last month, as India celebrated its 65th Republic Day, the focus shifted to Prime Minister Narendra Modi's monogrammed black suit, which generated substantial controversy.
Media reports claimed that the price of the suit Prime Minister Modi wore during his interaction with United States President Barack Obama at Hyderabad House was apparently Rs 10 lakh (Rs 1 million).
In an exclusive interview to ANI, Rameshkumar Bhikabhai Virani, the man who gifted the jacket to Modi, rubbished the speculation linked to it.
"I am from Gujarat. I presented this suit to him (Modi) when I attended the Vibrant Gujarat Summit," said Rameshkumar Bhikabhai. "I gave it while extending an invitation to him to attend my son's wedding on January 26."
"My son's name is Smit Virani. I gave this gift to my elder brother (Modi) on my son's behalf. My son had this idea of making this monogrammed suit. He said he wanted to give a surprise to Modiji."
When pressed for a comment on the jacket's cost, Bhikabhai said, "People can say anything. I can confirm that what is being said about its cost is not the correct amount. My son does not have the guts to spend that kind of money or that amount."
"My son's wedding was the first event our family was celebrating since my father's death two years ago. I met him (Modi) and insisted that he attend the wedding as an elder of the family. While accepting the suit as a gift, he told me that he (Modi) was very busy for the next two to three days, but promised to wear it," Bhikabhai added.
"He also said he would give the suit to charity. I said his accepting the suit from me was a big honour in itself, and it wasn't important for me what he did with it after wearing it," Bhikhabai added.
"The fact is that Modiji wore this on the day of my son's wedding, on January 26. It was a blessing for us. There can be no price attached to this," he said.
"I am not a politician; I am a businessman," Bhikabhai said, when asked to comment on the political controversy swirling around the mongrammed suit. "I am very far away from politics. For me, it is invaluable that Modiji wore this suit on the day of my son's wedding."
"He told me this suit would be auctioned and the proceeds will be sent to a Ganga-related charity," the Nri businessman added.
Bhikabhai revealed his family's ties with Modi go back over four decades.
"Whenever Narendrabhai used to meet us, my father used to give him a dhoti and a jubba (a waist-length garment, usually with long sleeves). I used to ask my father why he insisted on giving Narendrabhai Modi clothes, and my father said it was an expression of his love for Narendrabhai."
"Through sickness or in times of happiness, Narendrabhai has been a part of our family," Bhikabhai said.
The proceeds from the auctioned suit will go to the Namami Gange Trust Fund, a programme for cleaning the Ganga.
Image: Prime Minister Narendra Modi wearing the suit at a media interaction with US President Barack Obama at Hyderabad House in New Delhi, June 25, 2015. Photograph: PTI Photo