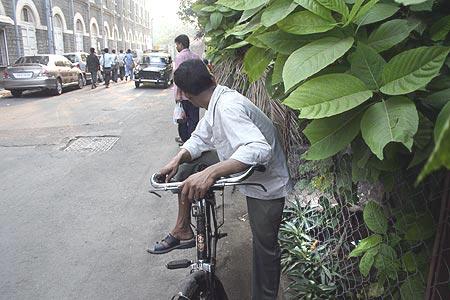 A
zam Amir Kasav
and Abu Dera Ismael Khan are said to have hidden in the bushes near Cama Hospital when the police Qualis bearing Mumbai Anti Terrorism Squad Chief Hemant Karkare, Additional Commissioner of Police Ashok Kamte, Inspector Vijay Salaskar, one sub inspector and two constables arrived to investigate the presence of the terrorists in the area on the night of November 26.
The murderous duo is reported to have opened fire on the unsuspecting police team, which did not even have the time to draw their weapons. Karkare, Kamte, Salaskar and a constable died instantly. The murderers are then said to have flung the police officers's bodies out of the vehicle, got into the Qualis and fired on unsuspecting citizens opposite the Metro Cinema.
Of the three men seated at the back of the Qualis, one was dead and two were injured. The surviving constable was killed when the terrorists later opened fire after the sub inspector's cell phone rang.
They abandoned the Qualis close to the Vidhan Bhavan, the seat of the state legislature, after a tyre burst,
hijacked a Skoda and raced down Marine Drive where a courageous police team confronted them, killing Khan and capturing Kasav.
On Wednesday, Special Correspondent A. G. Nadar and Photographer Uttam Ghosh visited the site of the fatal encounter and discovered that the bushes -- where the killers were reportedly hiding -- are enclosed by an iron net; it would be difficult for the murderers to have hidden there.
The shutter of the Corporation Bank ATM opposite the bushes have bullet holes. So where were the killers standing/hiding when the Qualis appeared? Were the thugs not visible to the police team in the Qualis's headlights, alerting the policemen to their presence?
One newspaper report this week said the terrorists had shot a man driving a Honda City in the hand and were about to approach his car when the Qualis appeared in the lane.
Also Read: