Home > India > News > First Look


Email |
Print | Get latest news on your desktop


The terrorist's shoes

December 01, 2008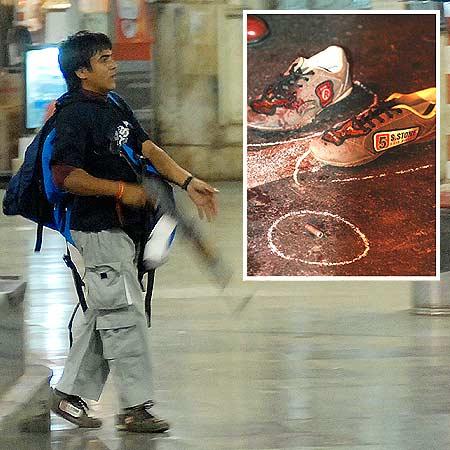 When Sebastian D'Souza, photo editor for the Mumbai Mirror newspaper, spotted Azam Amir Kasav and his cowardly mate on a platform at Mumbai's landmark Chhatrapati Shivaji Terminus [Images] on the night of November 26, he knew instantly that he had to capture images of the diabolic duo.

The photographs, shot at great risk to his life, are the only images the world has of two of the thugs who attacked Mumbai last week.

The next day, our senior colleague Sheela Bhatt was the first to tell the world that one of the terrorists had been caught.

A couple of hours after the attacks began, three courageous colleagues -- Uttam Ghosh, Sanjay Sawant and Vaihayasi Pande Daniel -- were the first journalists to arrive at the site of the encounter on Marine Drive where Kasav was arrested and another killed.

The trio didn't connect Kasav with what they had seen until they spotted the shoes in Sebastian's sure-to-win-awards photograph. It was the same shoes they had seen and captured in a photograph on the encounter.

Both Sebastian and Sanjay's images are placed alongside for readers to know that Kasav is no phantom in police custody -- he is for real and was captured by the Mumbai police a couple of hours after his career as serial murderer began.

Images: Left, Kasav captured at the CST by Sebastian D'Souza, published with the kind courtesy of the Mumbai Mirror. Notice his shoes. Right, his shoes, abandoned on the road after he was arrested by the Mumbai police. Photograph by rediff.com staffer Sanjay Sawant.