After the Maharashtra government announced a detailed five-level plan to initiate the unlock process, the Mumbai civic body has issued new guidelines to control the spread of COVID-19 in the city.
According to Brihanmumbai Municipal Corporation India's financial capital will be categorised under Level 3.
As per the state government's notification, municipal corporations and districts in Maharashtra with a positivity rate between 5 per cent and 10 per cent and occupancy of oxygen beds over 40 per cent are categorised under level 3.
Based on this, the following restrictions will be in place in Mumbai from Monday, June 7.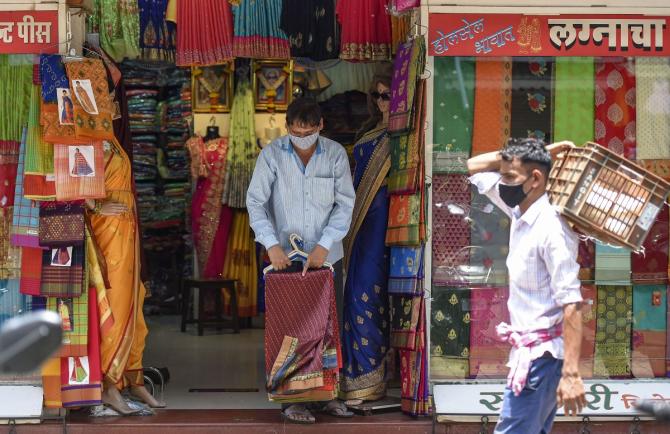 - Shops selling essential products can remain open till 4 pm on all days
- Medicals and chemists are permitted to remain operational 24 hours throughout the week/all days.
- Non-essential shops can operate till 4 pm on weekdays
- Malls, theatres, and multiplexes will continue to remain shut.
- Restaurants can function at 50 per cent capacity for dining till 4 pm only on weekdays. Parcel, home delivery and takeaway services will continue
- Public places and open grounds can remain open from 5 am to 9 am every day.
- E-commerce is regular.
- Private offices can function at 50 per cent capacity till 4 pm on working days
- Entry in suburban trains will be restricted only for "medical and few essentials.
- 50 people capacity for marriages and 20 for funerals.
- Public places/open grounds/walking/cycling allowed from 5 am-9 am every day.
- Only outdoor sports allowed from 5 am to 9 am and from 6 pm to 9 pm.
- Shooting allowed in a bubble, no movement outside after 5 pm.
- Social/cultural/entertainment gatherings allowed at 50% capacity and till 4pm on weekdays.
- 50% capacity at meetings/elections-GB of local bodies/corporative bodies.
- Only onsite labour allowed at construction site or labours must leave by 4 pm.
- Agriculture activities allowed to operate till 4 pm on all days.
- Gyms/Salons/Beauty & Wellness centres/SPA's are allowed to operate on a 50% capacity, appointment only, no AC's.
- Buses allowed to operate at 100% capacity, no standing passengers.
- Cargo movement (max 3 people) is allowed.
- Inter district travel for passengers by private car/taxi/bus/long distance trains is allowed (E-pass required if destination is level 5).