'In the second wave, probably due to the mutants, probably due to COVID-19-inappropriate behaviour, we are seeing it coming in the younger population, say from ages 30 to 50.'
'Also, we've seen that sometimes they deteriorate pretty rapidly and therefore we may need to keep a closer watch on the symptoms and on the oxygen levels at home.'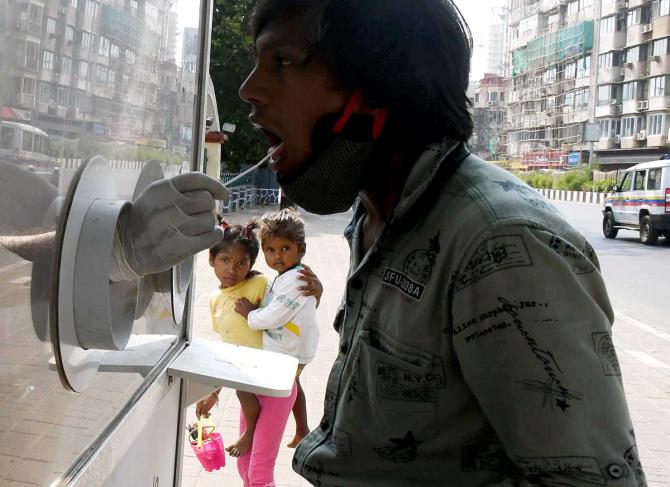 Mumbai's COVID-19 numbers are doing better.
So are Maharashtra's.
For the last two weeks now.
Knock on wood.
Slowly, steadily there's a heartening improvement.
Hard-won, grim progress, that came at such a high cost of life and earnings.
The Curve that we are watching keenly, with bated breaths, has started to make its hesitant, tentative downward descent in the state.
Its continued trajectory downhill -- and ability to not comfortably and dangerously settle into a stubborn plateau -- is firmly dependent on our keeping in check all COVID-19-inappropriate conduct.
Good behaviour is also required to prevent the arrival of a god-forbid third wave down the road.
One is still hearing daily of people getting sick. And of the tragic deaths of loved ones, of friends and of friends' loved ones.
When will this terrifying toll end?
Dr Khusrav Bajan was in a video conference with the Maharashtra chief minister when Vaihayasi Pande Daniel/Rediff.com contacted him to get a better COVID-19 picture of Mumbai and the state.
As a member of the Maharashtra medical task force, Dr Bajan is called upon for his advice in helping control the pandemic locally.
The head of the department of emergency medicine at the P D Hinduja Hospital, Mahim, north central Mumbai, Dr Bajan is a veteran intensivist, critical care expert and specialist in general medicine.
Trained at the Lokmanya Tilak Municipal Medical College, attached to Sion hospital, north central Mumbai, Massachusetts General Hospital, Boston and the Long Island Jewish Hospital, New York, Dr Bajan headed the Hinduja relief team that arrived in Bhuj in 2001 to provide medical care to earthquake victims and has a deep interest in ambulatory care and trauma life support.
In Part I of the interview with Vaihayasi Pande Daniel/Rediff.com, Dr Bajan makes an assessment on why young people have been badly affected.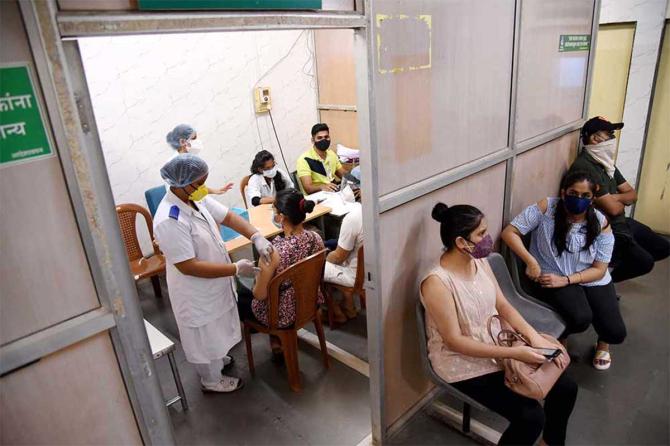 There many conflicting views on the COVID-19 variants' effect in this second wave in India, one reads.
Some say it's not necessarily that an Indian variant is causing this second wave. Others say it's more the handiwork of the London variant.
Since it is difficult for sequencing to happened at a more desirable pace, information is limited. What is your gut feeling about whether it is effect of the London variant or some new variant?
Is it a myth or a reality that more younger people are being affected because it is a new variant?
We are one year into COVID-19, and beyond, and therefore, we expect the virus to mutate.
Viruses are known to mutate and we know that the common cold, influenza also have mutated over the years and therefore a vaccine is not always very, very effective for even a small influenza.
Similarly, COVID-19 has mutated. In India, we've seen many mutants.
To begin with, in Maharashtra, we have the B.1.617. And that has two more variants and it is called the double mutant.
Whereas in South India, there is an N440K. And in Bangalore, there is a triple variant, and so on and so forth.
It's not necessary for us, even as clinicians or epidemiologists, to know the number of variants that we are dealing with.
But in the second wave, we need to understand if there is any consequence of this. So yes, there are mutants which we are dealing with, but the two questions we need to ask are, first, is it affecting us differently clinically?
And second, would the vaccines work on them?
Coming to the clinical part, yes, we have seen in the second wave, a demographic change.
Now is it because of the mutants? Or is it just because of more people not having COVID-19 appropriate behaviour, and therefore, they come across more variants, and more presentations?
We have seen in the first wave, that we had patients over 45 or 50 and above, who were more struck by COVID-19.
But in the second wave, probably due to the mutants, probably due to COVID-19-inappropriate behaviour, we are seeing it coming in the younger population, say from ages 30 to 50.
That's one change we have seen clinically.
Also, we've seen that sometimes they deteriorate pretty rapidly and therefore we may need to keep a closer watch on the symptoms and on the oxygen levels at home.
The moment they drop down, they need to consult a doctor or go to a hospital.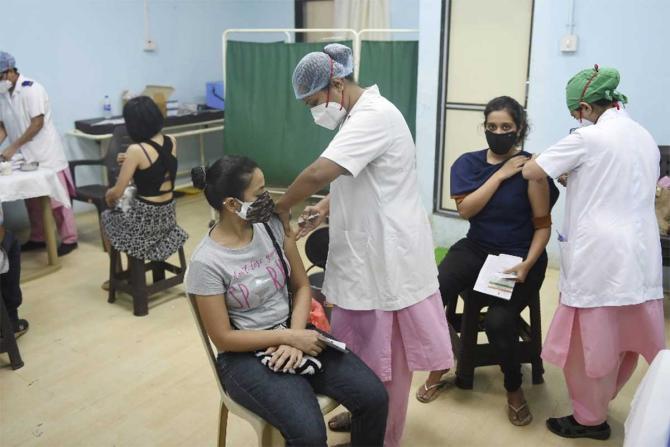 And the effect of vaccines on mutants?
There is a worry of an immune escape mechanism, where if the variants are mutated viruses, the vaccines may not recognise these mutants, and therefore, they may not be very effective.
We do have a few cases of breakthrough infection, even after vaccination. This is again a theory.
But by and large, most of the vaccines, including the ones in India, Covaxin and Covishield, have been proven -- not in large numbers, but in moderate numbers -- to be effective against even the newer mutants.
Having said that, even if there is an immune escape, and there is an infection that may happen, called as a breakthrough infection, where it may occur 15 days after the two full vaccination doses, then it will still not be a very severe one (infection), and therefore, less than one per cent of those who get this breakthrough infection, would be needing hospitalisation.
It is a win-win situation to vaccinate more and more.
It is eye opener, yes, that we need to understand that the virus is bound to mutate.
But do we just aggressively worry about it? Or just tackle it with confidence.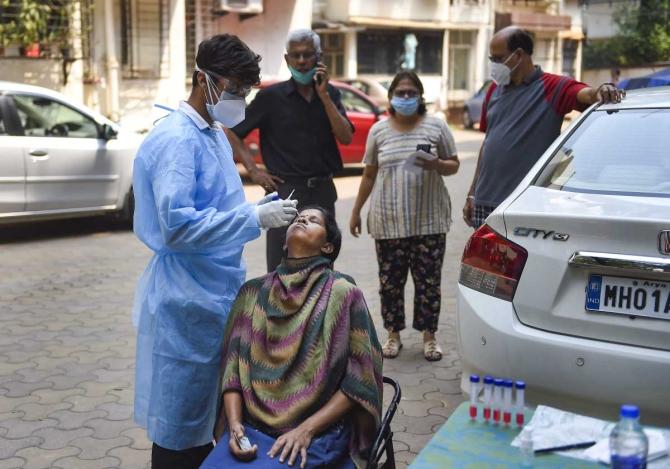 Whoever one speaks to across the country, all say that they are seeing mortalities even below 30 and huge numbers below 50.
But as per a recent article, CNN's contention was there are a lot more younger patients, because there are a lot more people sick.
Therefore, one is noticing a preponderance of COVID-19 infections in babies, children and younger people.
Would you agree with CNN's point of view?
So, we are seeing a lot of patients again. Our Maharashtra load is very high. The Mumbai load is also very high.
The volume of patients we are seeing -- I belong to the Maharashtra Task Force, so we take a lot of information from the entire Maharashtra -- but yes, we are seeing patients, who are between 30 to 50, which we did not see much of in the first wave.
But not many kids involved. Hopefully, they would have enough immunity to fight it out.
Definitely we are seeing a younger population, which I already mentioned. We also see patients deteriorating, in two or three days from the onset of the illness, or the diagnosis. So yes, it is a problem.
But as I said, you may have recorded that, this may not all be attributed to the mutant.
This could be also COVID-19 inappropriate behaviour and more because of the younger people are mixing around with others, probably without masks, when the unlocking happened four months ago.
Therefore, this is the population that is now being seen with COVID-19.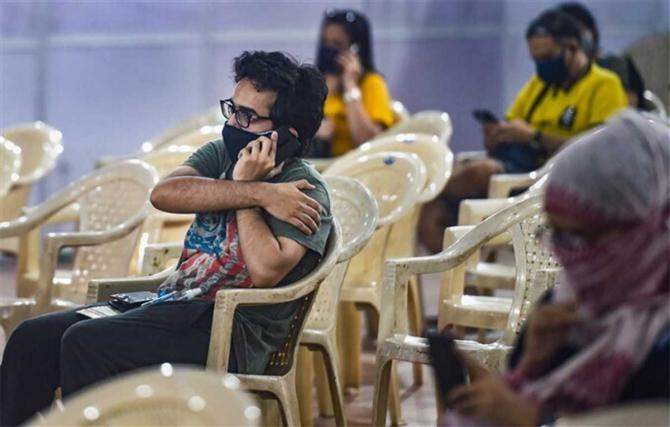 For the sake of clarity let me again understand: You are saying that it's not necessarily because there are more cases overall. Proportionately, you are seeing more young people. It seems like there are more young people affected?
There are more young people affected.
There are more cases in the second wave, at least twice the number.
So, therefore our infrastructure and other doctors and everyone are overwhelmed with the situation.
But having said that, we have tided over the crisis, at least in this part of the country, hopefully.
Basically, whenever you have a wave, there will be some changes between the first and second and even the third wave, which might happen.
We have to be careful and very appropriately monitor the situation.
But having said that, everyone's harping (stressing on the fact) that we are seeing more and more young people. But the percentage of young people who are involved -- when we are talking of younger, it's between the age group of 25-30 to 45-50 -- that we're seeing, is only about 15 per cent.
Whereas in the first wave, we saw less than 5 per cent. So that's the only rise.
It's not that no elderly person or nobody above 45 (is not affected too). We are seeing a total rise in the number and therefore we are seeing it across the age groups.
But in the younger age group, it has increased from, say 5 per cent to about 15.
Feature Presentation: Ashish Narsale/ Rediff.com