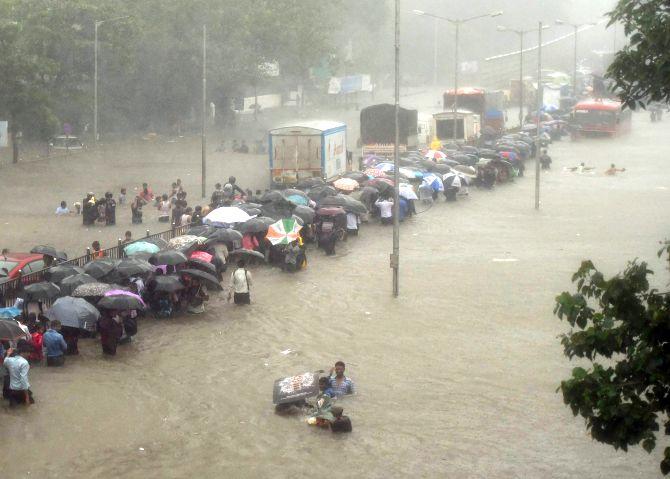 Even as the country's financial capital witnessed a chaos due to incessant rains on Tuesday, the harried commuters, stranded due to non-functional railway lines and traffic snarls, blamed the administration for not taking adequate measures to ease the situation on time.
Moiz Udaipurwala, 30, a media professional working in suburban Andheri, said trains came to a halt in the afternoon, as a result of which, there was no scope for him to reach his house at Reay Road.
"Though our office allowed us to go home early, there was no scope for us to leave as the trains were not operating. To add to our woes, there was a massive traffic jam on the Western Express Highway. We did not want to risk staying outdoors while it was raining. Thus, we had no option but stay back at the office," he said.
Sonali Thakker, a banking professional, alleged that the taxi drivers cashed in on the administration's failure and charged exorbitant fares.
"Firstly, it was nearly impossible to find a taxi. Those available asked for almost double the regular fare to take me from Churchgate to suburban Ghatkopar," she said.
Shekhar Sarkar, a lawyer, said he would have not had to spend the night in his office had the government taken adequate measures.
"The government and the Brihanmumbai Municipal Corporation are well aware that the city faces a flood-like situation every year. Yet, no measures are taken to address the problem permanently. Had the government ensured that the railway tracks did not get submerged, thousands would have had nothing to worry about," he said.
Asfiya Contractor, a lecturer of a city college, said she left home at 8 am like any other day and had not expected that it would rain cats and dogs.
"I decided to leave my workplace as it began to pour. With no cabs and autorickshaws available and those out on the streets fleecing the commuters, I was stranded at Matunga for nearly two hours.
"After a lot of hassle, I got an autorickshaw and then got stuck in a traffic jam for another three hours while travelling a small distance from Matunga to Bandra. Each year, the rains create havoc in Mumbai and yet the BMC and state government seem to be indifferent towards the civic issues," she said.
The metropolis witnessed torrential rains throughout the day. The India Meteorological Department has forecast heavy showers tomorrow as well.
IMAGE: People walk through flooded street during heavy rain showers in Mumbai on Tuesday. Photograph: Shashank Parade/ PTI Photo