At least 107 'Govindas', youngsters involved in the formation of multi-storeyed human pyramids as part of 'Dahi Handi' celebrations associated with Janmashtami, were injured in Mumbai on Thursday, while 17 such participants suffered wounds in adjoining Thane city, officials said.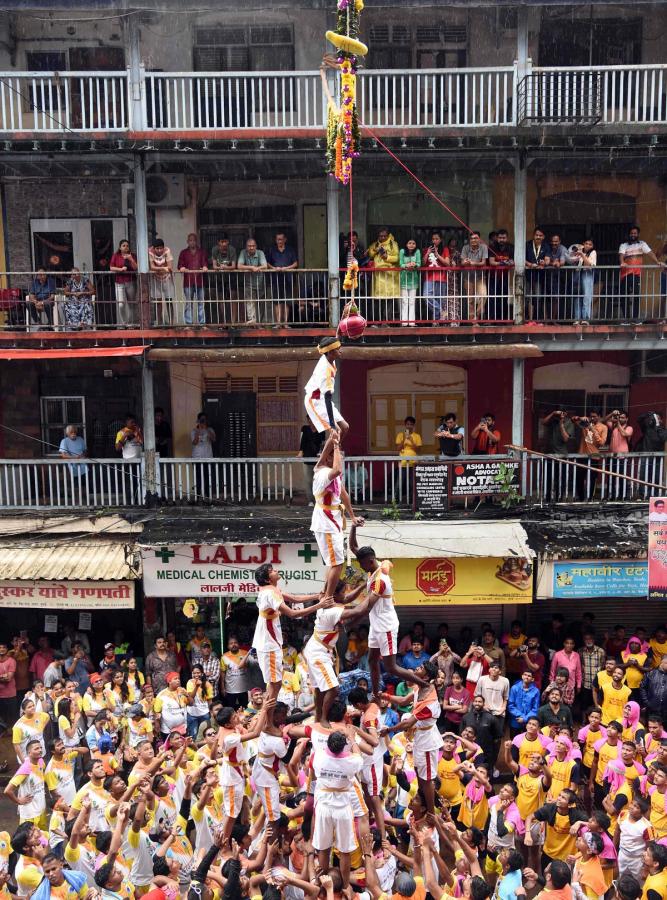 The Dahi Handi ritual, part of the Janmashtami festival that marks the birth of Lord Krishna, saw enthusiastic participation by revellers in the metropolis, its adjoining areas and other parts of Maharashtra. The festival was celebrated with traditional fervour and gaiety in Mumbai and other parts of the state.
As part of celebrations, Govindas, or Dahi Handi participants, formed multi-tiered human pyramids to break 'dahi handis' (claypots filled with curd) suspended in mid-air.
Prominent politicians, including Maharashtra Chief Minister Eknath Shinde, and Bollywood celebrities attended Dahi Handi celebrations in Mumbai and Thane city.
The celebrations began in the morning amid rains and continued till late in the evening. Competitions were organised at various locations across Mumbai, offering cash prizes for the Govinda groups that succeed in breaking dahi handis.
During the formation of human pyramids, there are chances of participants falling down and getting injured, in some cases critically.
"As many as 107 Govindas suffered injuries during Dahi Handi celebrations in Mumbai. Of these, 14 were admitted to various civic-run and government hospitals, while 62 were discharged after treatment. Another 31 participants were treated at out-patient departments (OPDs) in state-run and municipal hospitals," an official.
The injured revellers were taken to various medical facilities, including KEM Hospital, Sion Hospital, Rajawadi Hospital, ST George Hospital, Nair Hospital, Bombay Hospital and Cooper Hospital.
Civic-run KEM Hospital received the highest number of injured participants at 34, of which seven were still admitted in hospital, he said.
As part of its proactive measures, the Brihanmumbai Municipal Corporation (BMC) had kept 125 beds ready at civic-run hospitals to treat the injured Govindas, officials said.
Meanwhile, 17 Govindas, including two minor girls and a 34-year-old woman from Jogeshwari, were injured during Dahi Handi events in Thane city and taken to different hospital, a civic official said.
As part of the festival, dahi handis decorated with flowers were hoisted many feet above the ground at several housing societies, roads, junctions and public grounds across Mumbai. Dressed in colourful attires, Govindas were seen crisscrossing parts of the city in trucks, tempos, buses and two-wheelers throughout the day.
Popular Bollywood songs about the festival kept blaring from speakers at every nook and corner of the metropolis, with the festive spirit particularly high in Marathi-dominated pockets like Parel, Lalbaug, Worli, Dadar, Bhandup, Mulund, Goregaon and Andheri.
Civic-run transport undertaking BEST said it diverted several buses on account of Dahi Handi celebrations which often block the roads.
Several political leaders and Bollywood celebrities visited Dahi Handi events organised by famous 'mandals' (groups) in Mumbai and Thane city.
Chief Minister Shinde attended Dahi Handi celebrations at Tembhi Naka in Thane city, while deputy CM Devendra Fadnavis visited such events in Worli and Magathane in Mumbai.
Shiv Sena (UBT) leader Aaditya Thackeray attended Dahi Handi festivities in Dadar, Girgaon and other places, while Maharashtra Navnirman Sena chief Raj Thackeray visited a Dahi Handi event in Thane city.
In recent years, some Dahi Handi events backed by politicians in Mumbai and neighbouring cities have become famous due to hefty prize money, the presence of celebrities and entertainment programmes organised there. These Dahi Handis attract huge crowds and a steady flow of Govindas.