Tuesday's bridge collapse once again puts the spotlight on the city's urban infrastructure and a dire need for its development, reports Amritha Pillay.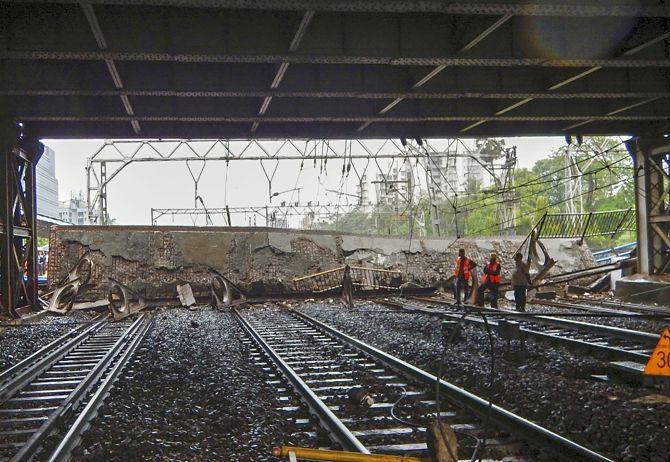 On Tuesday, a portion of an overbridge collapsed over the railway tracks in Mumbai's western suburb of Andheri, halting operations on the western section of the city's rail line.
Such incidents are slowly turning into a norm rather than a rarity for the fast-paced city.
In 2017, during a heavy downpour, the city witnessed one of its worst stampedes at the Elphinstone railway bridge, reportedly claiming more than 23 lives.
Railway authorities, posted an enquiry, concluded the stampede was a result of confusion caused amongst commuters due to heavy rains and a huge crowd using the bridge at that point of time.
Tuesday's bridge collapse once again puts the spotlight on the city's urban infrastructure and a dire need for its development.
A major part of this responsibility lies with the city's civic body, Municipal Corporation of Greater Mumbai , commonly known as Brihanmumbai Municipal Corporation.
For 2018-19, BMC's total budget is at Rs 272.58 billion, making it the richest civic body in the country.
According to BMC's budget document, out of its total budget for 2018-19, it plans to spend Rs 17.70 billion as capital expenditure on traffic operations, roads and bridges this financial year.
To be sure, the body also revised the expenditure for road development for the last financial year.
According to the 2018-19 Budget speech document, the roads and traffic department's revised estimate for 2017-18 was at Rs11.75 billion as capital expenditure, compared to a budget estimate of Rs10.78 billion.
Similarly, the bridges department's revised estimate for capital expenditure was at Rs 3.13 billion, higher from the budget estimate of Rs 2.20 billion.
Data related to actual spending for previous years was not readily available.
"Interestingly, while the pre-reforms trends in all departments was to overstate the budget estimate and then drastically cut down the revised estimate on the capital side, this year has seen a reversal of this trend, with infrastructure providing departments asking for RE more than the BE, thereby validating the thrust on Capital Works and better control on expenditure," said Ajoy Mehta, municipal commissioner, for the city in his budget speech on February 2.
Most infrastructure experts agree that the spending has come late.
In addition, some highlight what may be lacking is smooth coordination between various agencies.
"There are serious institutional issues in Mumbai. Big and different parts are played by the city government, the state government and the central government and broadly this coordination is not sufficient. There is a need for them to rethink the set-up so that the parts that are inter-dependent can be brought under one responsible agency," said Manish Agarwal, partner and leader, Capital Projects & Infrastructure, PwC India.