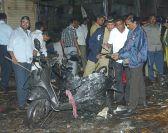 Patcy N speaks to eyewitnesses in Zaveri Bazaar.
Satadhar Patra, whose shop is located close to the spot where the blast occurred, has been working in Zaveri Bazaar for 30 years.
At first, he thought there had been an earthquake. Everything shook; he heard a loud, deafening, sound; then, his office glass shattered.
When he walked down, there was smoke all over. Patra could not see anything. After about seven minutes, the air cleared. It was then that he saw vehicles burning and bodies at the blast site. He was too shocked to react.
Hours after the blast, Zaveri Bazaar was chaotic as politicians visited the site. Residents were angry, alleging that the police had arrived late and did not help.
According to Ramesh Ojha, who owns the Kamlesh Shree Milk Centre at Zaveri Bazaar, the blast occurred in front of Mohanlal Potlawala's shop, behind the Bank of India branch. The bomb, he believes, was hidden in a scooter.
"I ran to the spot and saw six people lying there," Ojha recalls. Two scooters were on fire. Along with another resident named Modi, Oha tried to douse the fire.
Watch Ramesh, an eyewitness at Zaveri Bazaar, speak to rediff.com on iShare
He saw people lying with tattered clothes, asking for help. He took plastic sheets tied to the shops to keep away the rain and put the victims on the sheets. Later, he got a cart, put the victims on it, so that they could be taken to hospital.
Ojha says a few seconds after the first blast there was a second blast on another scooter ten feet away This had lesser destructive impact, he adds.
The police came about 30 minutes after the blast. Most of the victims are vendors who sell food in Zaveri Bazar's Khau Galli.
Another eyewitness claimed "body parts were thrown in the air -- one lady was shattered into pieces, and her head was thrown into another building." An ambulance staffer later told this reporter that he had taken a headless female corpse to the GT Hospital.
The scene at the GT Hospital was chaotic as medical staff rushed to bring assistance and solace to the victims and their families. People came in large numbers to donate blood.
Watch Cabinet minister Varsha Gaikwad speak to rediff.com on iShare