Here is Rediff.com's selection of some interesting stories from Wednesday that you may not have read in the morning newspaper.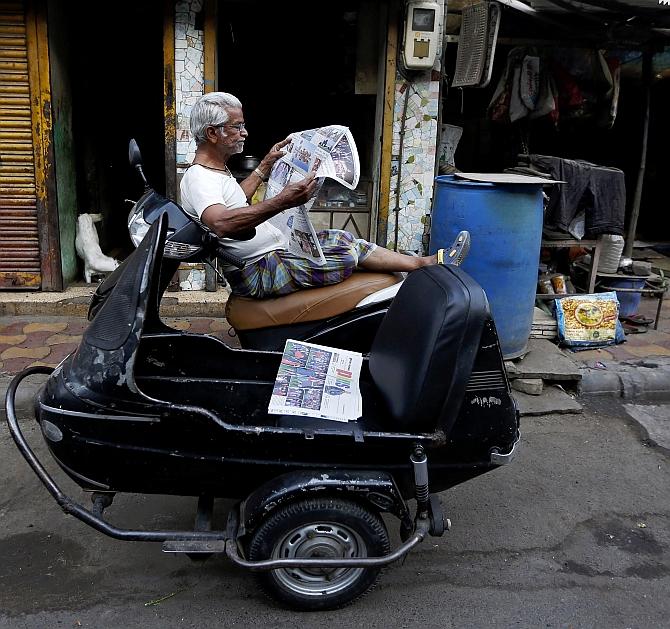 * The Prime Minister's Office has been directed by the Central Information Commission to respond to RTI applicant Kanhaiya Lal from Jhalawar district of Rajasthan who sought to know when will Rs 15 lakh, as promised by Narendra Modi during the 2014 general elections, be deposited in his account.
---
* Goa government is mulling over not permitting the crowd-pulling dance music festivals in the state between December 15 and January 15 which is the peak tourist season, Tourism Minister Dilip Parulekar has stated. The state police had earlier objected to these events pointing out that they create pressure on the law and order machinery.
---
* In a curious U-turn, the Union ministry of water resources has said its minister Uma Bharti's Lok Sabha statement that gangetic dolphins were getting blind because of pollution is "factually correct". It said it has launched an inquiry to ascertain as to how this "factual information" was not included in the ministry's response to an RTI query.
---
* Taking forward India's concern for the Baloch people, the Union cabinet has decided to broadcast a news bulletin in the Baloch language, particularly for the people living in Balochistan province of Pakistan and other areas. The move comes days after Prime Minister Narendra Modi flagged concerns about the condition of people in Balochistan in Pakistan.
---
* Tea and snacks like samosa and gulab jamun offered to guests by ministers have cost the Uttar Pradesh state exchequer nearly Rs 9 crore during four years of Akhilesh Yadav government. To be precise, Rs 8,78,12,474 was splurged over snacks during between March 15, 2012 when the Akhilesh Yadav government took oath, and March 15, 2016, when it completed four years.
---
* Scientists in Russia have detected a radio signal, possibly transmitted by a star system 94 light-years away, sparking speculation that this may be an attempt by intelligent extraterrestrial life to contact our solar system.
---
* What is the last thing you would expect one to do with a Lamborghini Huracan, which costs a whopping Rs 5.5 crore? Bang it somewhere. Well, that's exactly what BJP MLA from Mira-Bhayander, Narendra Mehta's wife Suman did.
---
* The first commercial flight between the United States and Cuba in more than a half century landed in the central city of Santa Clara, re-establishing regular air service severed at the height of the Cold War.
---
* Mumbai Traffic Constable Vilas Shinde (50) who was allegedly attacked with a wooden plank by a juvenile after he asked the latter for vehicle documents at a petrol pump last week, passed away at a hospital.