Eight women have accused Morgan Freeman of sexual harassment, describing a pattern of inappropriate comments and unwanted touching in a new report by CNN (external link).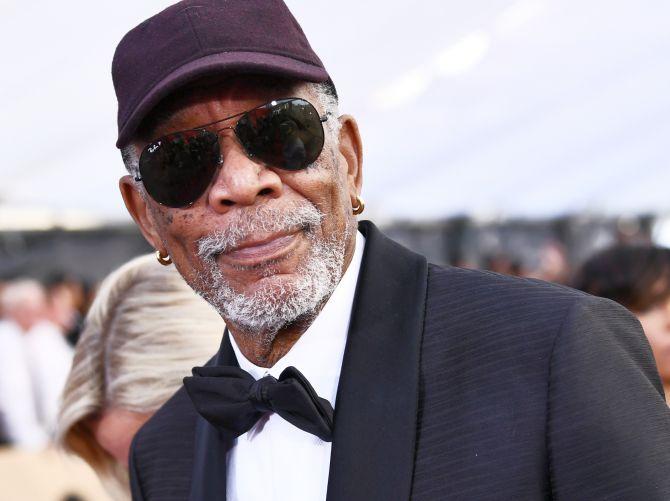 The allegations against the 80-year-old Oscar winning actor range from inappropriate touching to suggestive comments and were brought by entertainment reporters -- including a CNN reporter who co-wrote the story -- as well as people in the entertainment industry, according to CNN. The outlet reportedly spoke to an additional eight people who said they had seen Freeman's alleged misconduct.
A young production assistant who worked on 'Going in Style' -- the 2017 comedy starring Freeman, Michael Caine, and Alan Arkin -- alleges Freeman subjected her to unwanted touching.
She also claims that Freeman would comment on her figure and clothing on a regular basis, and that he would rest his hand on her lower back or rub her lower back. In one instance, she said Freeman "kept trying to lift up my skirt and asking if I was wearing underwear." At one point, she recalled, "Alan made a comment telling him to stop. Morgan got freaked out and didn't know what to say."
A senior production staffer for 'Now You See Me' claimed the actor harassed her and her co-workers with observations about their bodies. "We knew that if he was coming by... not to wear any top that would show our breasts, not to wear anything that would show our bottoms, meaning not wearing clothes that [were] fitted," she said.
The women accusing Freeman have worked with the now 80-year-old actor both on movie sets and at his production company, Revelations Entertainment. Each of the women said they didn't report him, most citing that they feared for their jobs.
CNN's investigation into Freeman's behaviour came after the news company's own entertainment reporter, Chloe Melas, claimed to have experienced harassment from the Oscar winner during a press junket interview for Going in Style.
Melas was six-months pregnant at the time of the interview. She alleged that, in a room full of people that included his co-stars Arkin and Michael Caine, Freeman shook her hand and repeated a variation of 'I wish I was there'. She also claimed that he said to her, 'You are ripe'.
Following the allegations, Freeman responded in a statement, "Anyone who knows me or has worked with me knows I am not someone who would intentionally offend or knowingly make anyone feel uneasy. I apologise to anyone who felt uncomfortable or disrespected -- that was never my intent."
Freeman is the latest in the long list of stars accused of sexual harassment since October 2017 in the wake of the #MeToo and Times Up movements that have put the spotlight on working conditions and gender bias in Hollywood.
The movements gained momentum after producer Harvey Weinstein was accused of harassment by Ashley Judd, Rose Mc Gowan, Asia Argento, Angelina Jolie and others of inappropriate behaviour and in some cases, rape.
More allegations were made against actors Kevin Spacey, James Franco, comic Louis CK and several other men in Hollywood and US politics.