Janata Dal-Secular leader HD Kumaraswamy on Thursday said more leaders and legislators may quit the party, ahead of assembly polls in Karnataka, even as the party's Arsikere MLA KM Shivalinge Gowda announced that his next move is towards the Congress.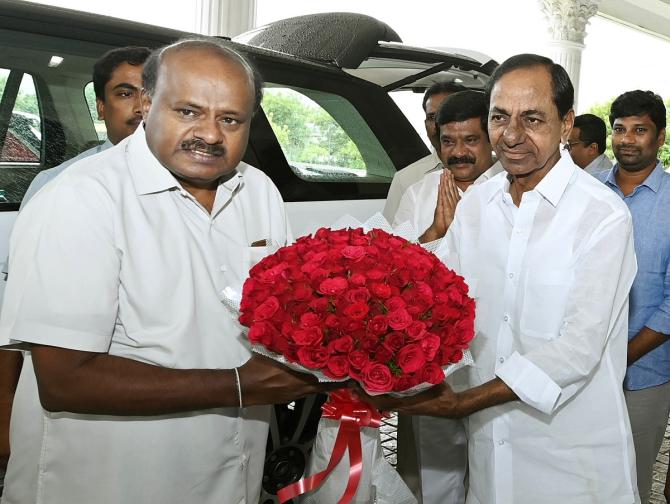 The former chief minister also said that the Karnataka assembly poll schedule is expected to be announced by the Election Commission, later this month.
"It was said that JD-S is in ICU, it does not have strength, and may win 10-15 seats with a great difficulty, along with that it was said that many will quit JD-S giving it a shock. Some leaders had kept both their legs out of JD-S for the last two years now, but were in the party for the sake of it, among them two-three people may quit in the next couple of days," Kumaraswamy said.
Speaking to reporters in Mysuru, he said, he is not giving priority to such things and was concentrating on strengthening the party with a target of winning 123 out of 224 seats and forming a government with absolute majority in the State.
Further noting that time is close for election dates to be announced, Kumaraswamy said, on any of the dates probably between March 20 to 30, the Election Commissioner may declare the dates for assembly polls.
Meanwhile, speaking to reporters in Hassan, Shivalinge Gowda on Thursday announced that he will be joining the Congress in the coming days.
"I had said I will abide by the decision of leaders in my constituency and well wishers, accordingly about three thousand people met last night and said looking at the developments in the constituency and in JD-S it was good for me to join Congress, as BJP is not an option," he said.
Stating that he will not resign until the term ends, Gowda said, "my next move after this term ends is towards Congress, this is the opinion of our leaders too....after discussing with Congress leaders I will decide on the joining date and other things."
Another disgruntled JD-S MLA A T Ramaswamy from Arkalgud too has said that he will definitely contest the upcoming assembly elections, but is yet to decide which party he should join.