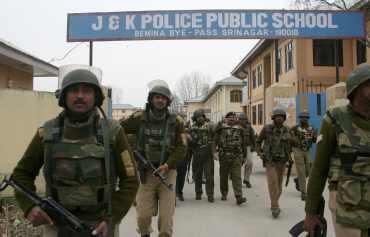 The Centre may temporarily stay its plan of pulling back about 3,000 Central Reserve Police Force personnel from Kashmir Valley in view of a latest terror strike in Srinagar.
Earlier, the government had decided to call back three battalions of Central Reserve Police Force, which are engaged in maintaining law and order in militancy-hit Kashmir Valley, by this month end in order to deploy them in Naxal-affected areas.
Sources said that it has been decided not to withdraw security forces from the Valley in view of Wednesday's terror strike there, which killed five CRPF jawans.
The CRPF has deployed about 65 battalions (65,000 personnel) in the Valley.
The force, according to the sources, wanted to deploy three battalions in Jharkhand and Bihar for anti-Naxal operations once they are taken out from Jammu and Kashmir.
The anti-Maoists operations are now the major operational theatre of the central force with close to 80,000 personnel deployed for the task in various Naxal-affected states.
In a major suicide attack, two terrorists, disguised as cricketers, had yesterday stormed a CRPF camp near a school at Bemina in Srinagar. However, the militants were eliminated after 30-minute gunfight with the security personnel.