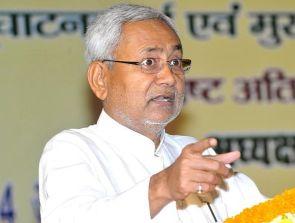 Stepping up the war of words with Narendra Modi, Nitish Kumar on Tuesday said his promise to bestow a special status on Bihar along with a special package was nothing but a 'ploy' to win votes by 'befooling' people.
Nitish also wondered how Modi could make Bihar a "new Bihar", as he promised, without the knowledge and love for the state.
The Bihar chief minister said on social networking site "Facebook" that it was just a ploy to win votes.
Modi in his address at Purnea yesterday said that if his party formed government in Delhi, it would provide special status, special package and pay special attention to the state to spur its development.
Nitish also alleged that the BJP leader was trying to 'jam' development of Bihar and undermine it by trotting out wrong figures.
Kumar's retort on Facebook was couched in a poetic style: "Bihar me hunkar bhare maharashtra me abhar bhare" (while roar in Bihar but express gratitude in Maharashtra).
The senior JD-U leader said that while he was roaring in Bihar, at the same time he was cosying up to MNS in Maharashtra which has been targeting people of the state in Mumbai and Maharashtra.
He said that the entire efforts seems directed at "breaking" confidence of Bihar through "conspiracy".
Kumar, whose aversion for his Gujarat counterpart was an open secret, took potshots at him for rejecting progress in the state by highlighting only a few unpleasant incidents.
He referred to frequent reference to terrorism in Bihar on the basis of two events in the recent past to drive home the point.
In his Purnea rally yesterday, Modi also alleged that Bihar CM's 'ambition' to become prime minister drove him to split from BJP and accused him of possessing Himalayan arrogance.
Image: Bihar Chief Minister Nitish Kumar