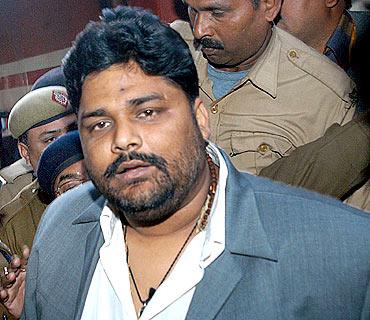 Controversial former Member of Parliament Rajesh Ranjan alias Pappu Yadav, who was acquitted in the murder of Communist Party of India-Marxist leader Ajit Sarkar last year, joined the Rashtriya Janata Dal on Monday.
Soon after, came RJD's announcement to field him from the Madhepura seat in the upcoming Lok Sabha election. Yadav will be pitted against JD-U chief Sharad Yadav in the constituency, which is dominated by the backward Yadav caste.
Though the JD-U has not officially released its list of candidates, Sharad Yadav, who won the 2009 Lok Sabha polls from Madhepura, said he would fight to retain the seat.
RJD chief Lalu Prasad lauded Pappu for his "contribution in strengthening secular forces" in Bihar for more than two decades.
Pappu said that though he had never left the RJD, he was forced into wilderness after being convicted for life by a CBI court n 2008 in the Ajit Sarkar murder case due to which he had to spend many years behind bars. He had hopped from the RJD to LJP and the SP during his controversial over two-decade-long career.
Pappu is a four-time MP. He won thrice from Purnia -- in 1991, 1996 and 1999 and won the Madhepura by-polls in 2004.
His wife and former MP Ranjita Ranjan is contesting on a Congress ticket from Supaul.
Last year, citing lack of evidence, the Patna high court acquitted Pappu in a case related to the killing Sarkar in May 1998.
Image: Pappu Yadav