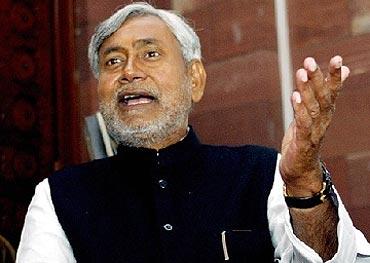 Bihar Chief Minister Nitish Kumar on Thursday made his prime ministerial ambitions known, saying he is more qualified and experienced than those "roaming around" for the top job.
"I am more qualified than those roaming around for the post of prime ministership," Kumar said in his 'sankalp yatra' held in Bettiah, Bihar to demand special category status for Bihar.
Without naming either the BJP Prime Ministerial candidate Narendra Modi or Congress Vice President Rahul Gandhi, he said, "While one does not have the experience of Parliament another has no experience of running a state...I have both experiences ...Am I less qualified than them?"
Asked categorically if he was a prime ministerial candidate, Kumar said his party JD-U was small and modest and did not make tall claims, but believed in working sincerely for the people.
Told that senior leaders like Mulayam Singh Yadav and Jayalithaa, whose parties -- Samajwadi Party and All India Anna Dravida Munnetra Kazhagam -- were part of the Third Front, had hinted at being in the race for the PM's post, he shot back "What's wrong in this? Every party has its strategy to maximise support among people."
Kumar also claimed that all 'sponsored' poll surveys would be proved wrong ultimately and neither the Bharatiya Janata Party nor the Congress would come to power. "In fact, the new grouping which you call Third Front will be the First Front," he said.
"The non-Congress and non-BJP parties will have the largest numbers after the polls," he said, referring to the Federal Front of 11 non-Congress and non-BJP parties for which he has been a prime mover."
He categorically ruled out siding either with the Congress or BJP after the polls. In an apparent dig at his Gujarat counterpart, he said, "The 2002 riots had led to the demise of the NDA in 2004 general elections."
Kumar, whose hostility towards the BJP PM pick is no secret, broke away from the National Democratic Alliance after 17 years over elevation of Narendra Modi.
Asked if there was any effort at tie up between the JD-U and the Congress till it allied with the RJD, he answered in the negative. "Actually it was tactics of the Congress to create pressure on Lalu Prasad and they successfully won one additional seat from RJD while stitching up an alliance," Kumar said.
On Lok Janshakti Party President Ramvilas Paswan joining hands with NDA, he reiterated that there could be no other leader who could take such a sharp turn.
On his rival Lalu Prasad accusing him of breaking up his RJD, he said, "Actually it's breaking up itself and there is no need to break it." He said, "It is the habit of Prasad of cursing me for everything that goes wrong either for him personally or his party. These are important pages of his invisible autobiography."

Image: Bihar CM Nitish Kumar says the Third Front will sweep the elections