Prime Minister Narendra Modi on Thursday slammed the opposition alliance INDIA as a collection of arrogant dynasties who will take India back by two centuries as he exuded confidence that people will bless the "garib ka beta" with a record-breaking mandate in the 2024 Lok Sabha polls.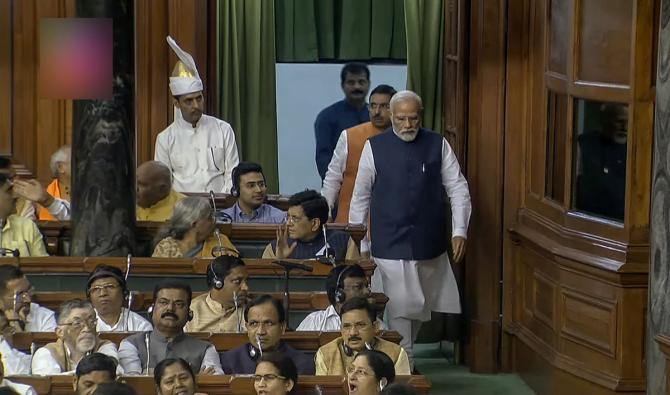 In his over 130-minute reply in Lok Sabha to the no confidence motion brought by opposition parties, Modi seized on Rahul Gandhi's now-expunged reference to his government's alleged assault on 'Bharat Mata' in Manipur during his speech a day before to launch a blistering counterattack, saying some are wishing death to 'Maa Bharti' even though their party has a history of dividing India and assaulting its people.
The Congress chopped off mother India's limbs and divided her into three when the time came for freeing her from slavery, he said, describing Gandhi as a "failed product" whose repeated launches have always failed.
The no confidence motion was later defeated by a voice vote.
'Working to restore peace in Manipur'
Reaching out to the people of Manipur, he said the entire country is with them, those behind heinous and unforgivable crimes against women will be given stringent punishment and the Centre and state governments are working together to restore peace in the ethnic violence-hit state soon.
Several opposition parties, including the Congress, had walked out by the time he touched on the Manipur issue, accusing him of not speaking on the matter.
The full video of Prime Minister Modi's Lok Sabha speech ' Courtesy, BJP on X (formerly Twitter).
With the Congress and its allies constantly targeting him over the situation in the state, where over 150 people have died since May, the prime minister returned fire by describing the politics of the grand old party as the root cause of problems plaguing Manipur and the entire northeast region which he described as his "jigar ka tukda" (piece of heart).
He has himself visited the state by over 50 times and his government ministers over 400 times to the region, he said. This is not mere data but his government's devotion to the northeast, he said.
Modi urged the Opposition not to do politics but work as medicine for curing the pain of people of the state in what was his likely his longest speech in Parliament during which he very much made a pitch for the BJP's re-election in the 2024 polls, highlighting his government's track record.
'Here's my stock market tip'
Opposition leaders targeted banking sector, the public-run Hindustan Aeronautics Limited and Life Insurance Corporation of India, the prime minister said, noting that government sector banks have made record profits.
HAL has notched up record revenue and the LIC has been also doing exceptionally well, he added.
"My tip to those interested in stock market -- invest in government companies and your money will grow," Modi said.
"The Opposition does not believe in the capabilities and dedication of the nation," he added.
"Now they are cursing the country, the country to going to get stronger," he said, asserting that the government will also grow in strength.
'When you bring no-trust motion in 2028…'
The prime minister underlined how India sank into poverty and was on the verge of bankruptcy in 1991.
However, after 2014, India found a place in the top five economies of the world, he said.
Modi said this was achieved through the mantra of "reform, perform and transform" with definite planning and hard work.
This will continue and necessary reforms will be done, he added.
"In 2028, when you will bring a no-confidence motion, the country will be among the top three economies," he asserted.
Modi said India is going through a very important and critical phase of time and its impact will be felt for the next 1,000 years. The strength and hard work of people will lay a strong foundation for the next 1,000 years, he added.
Citing a NITI Aayog report, the prime minister said over 13.5 crore people have been lifted out of poverty in the last five years.
'You can change the label but not…'
He mocked the INDIA (Indian National Developmental Inclusive Alliance) bloc as an attempt to put plaster on a decrepit building and cited the development-oriented politics of the ruling BJP-led National Democratic Alliance to assert that the Opposition could not resist incorporating its acronym in its own new nomenclature.
Their new shop will soon be shut down, he said. The opposition is all about 'loot ki dukaan' and 'nafrat ka bazar', he said in what was seen as his swipe at Gandhi's frequent 'mohabbat ki dukaan' pitch.
The Congress was at the Centre of Modi's political attack as he painted the party lacking any vision for the country and siding with those who work against India.
These parties have added two 'Is' of arrogance to the NDA, and the one 'I' of arrogance is of the alliance's 26 constituents and the other 'I' is of arrogance of one family, he said.
"You can change the label but how you will hide your old sins from people," he said, dubbing the alliance as a reflection of dynastic politics built around family name and wealth which was sought to be eliminated by the likes of Gandhi, Ambedkar, Maulana Azad and other icons of the freedom movement.
The Opposition sells hate, Emergency, partition, atrocities on Sikhs, lies, corruption and scams. "Those having this shop of hate should be ashamed. They sold the self-respect of our armed forces," he said.
They are all about double-digit inflation, instability, appeasement politics, dynasty, unemployment, terrorism and a guarantee to push India back by two centuries, he said.
This is not INDIA but 'ghamandia' (full of arrogance) and every leader wants to be bridegroom in its wedding procession, he said quoting a Hindi idiom.
'People have no confidence in Congress'
Charting his rise from a humble background, he said in an attack on the Gandhi family that they can't withstand a poor person's son in the seat of power.
"The truth is that people of the country elected a government with full majority twice after 30 years. But they are worried as to how the poor's son is sitting here," he said. They (Congress leaders) used to cut birthday cakes in airplanes while vaccines are now transported in them, they used to get dry-cleaned clothes by air but the poor now fly in planes, they used to use naval warship on vacations," he added.
"The Congress has no policy, no intention, no vision, no understanding of global economy and no knowledge of India's economy," Modi said, panning the party leadership as rootless and privileged who have no faith in the country's people. It was founded by a foreigner and every aspect of its identity, from flag to poll symbol and ideas, have been "stolen".
Targeting the main opposition party, he said its government at the Centre would trust the word of Pakistan over terror attacks and its misadventures on borders but not the valour of Indian armed forces. In Kashmir, it would not trust the common man in the region but separatists and others carrying Pakistan's flag.
That is why people's feelings of "no confidence" in the Congress is very deep, he said, accusing the party of seizing on any negative thing about India coming from foreign soil. highlighting his government's special operations across the border.
In a reference to frequent disruption in the both Houses of Parliament by the opposition parties over the Manipur situation, he said they did not allow discussion to take place on a number of bills related to the country's development.
'For them party is bigger than nation'
They have shown that 'dal' (party) is bigger than 'desh' (country) for them. "You have betrayed the people," he said.
Modi said when the Opposition had brought a similar no-confidence motion in 2018, his government came to power for a second term with a bigger mandate in 2019. The Opposition's motion has proven auspicious for his government, he added.
"It is the country's confidence that when you bring another no confidence motion in 2028, India will be the third largest economy in the world," he said, asserting that his dispensation has given a scam-free governance. The Opposition cannot give this guarantee but he can, he added.
Opposition parties are marked by arrogance and absence of confidence, Modi said, accusing them of suffering from "ostrich-like" mindset at a time when a new confidence, energy and resolve has filled people of the country whose global credibility has been taken to "new heights".
Taking a swipe at them, he said they seem to have been blessed with a "secret boon" that anyone whom them wish ill will prosper. He was an example of this, Modi said, adding that he has been targeted for over 20 years.