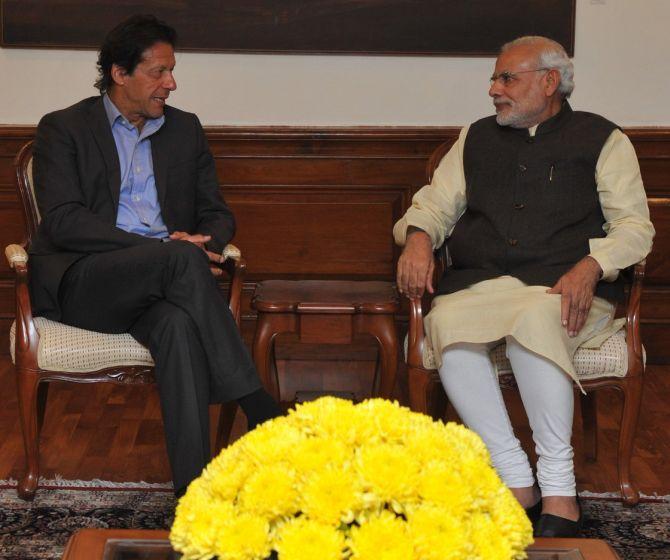 Prime Minister Narendra Modi's call to Pakistan Tehreek-e-Insaf chief Imran Khan to congratulate him for winning the elections is a positive development, Islamabad's envoy to New Delhi said on Tuesday and expressed hope that such steps could lead to betterment of ties.
Pakistan's High Commissioner in New Delhi Sohail Mahmood made the remarks during an event held at the country's chancery to mark the country's 72nd Independence Day.
"Prime Minister Narendra Modi calling PTI chairman Imran Khan after the results of the general elections is another positive development. And it is hoped that such positive developments will lead to the betterment of ties between the two countries," Mahmood said.
The envoy emphasised that 'peaceful relations' with all Pakistan's neighbours, including India, were accorded 'high priority' in the foreign policy vision outlined by the incoming leadership in Pakistan.
During the celebrations, the envoy hoisted his country's flag to the tune of the Pakistan national anthem.
As people greeted each other, students of the Pakistan High Commission School presented a medley of songs on the occasion.
According to a statement issued by the embassy, the high commissioner pointed out that the peculiar trajectory of India-Pakistan relations over the past 71 years had often led to political and military tensions and prevented the two countries from realising their optimal potential in socio-economic development.
"Our next generations deserve a better future - one marked by peace and opportunities for progress and prosperity," he said.
He also hoped that South Asia would 'turn a corner' and be known in the world, 'not for confrontation, but for cooperation'.
Along with deepening of democracy in Pakistan, 'impressive strides' were being made in the fight against the scourge of terrorism, Mahmood added.
On July 30, Modi spoke to Khan, who is set to become Pakistan's next prime minister after his party emerged the largest political party in July 25 polls, and hoped that democracy will take deeper roots in the neighbouring country.
India's Ministry of External Affairs had said Modi 'also reiterated his vision of peace and development in the entire neighbourhood'.
Khan is expected to take oath as Pakistan prime minister on August 18.
In a goodwill gesture ahead of the Independence Days of the two countries, India on Monday released seven Pakistani civilian prisoners, taking the total number of jailed inmates repatriated in the last one week to 21.
Pakistan also freed 30 Indian prisoners, including 27 fishermen.