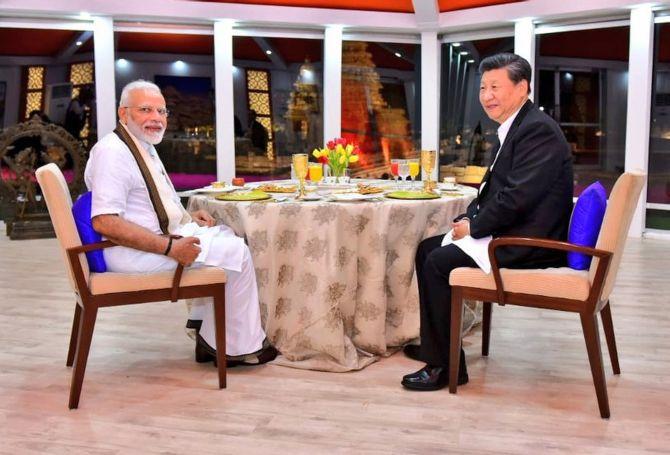 Prime Minister Narendra Modi and Chinese President Xi Jinping held a two-and-a-half hour 'pleasant conversation' over dinner on Friday, resolving to further energise bilateral development partnership and insulating the overall ties from differences over contentious issues.
The meeting at the magnificent Shore temple complex under a sea-facing colourful tent in Mahabalipuram continued much beyond the schedule time as both leaders, helped by two interpreters, touched upon a range of issues, including complex ones, over sumptuous local Tamil delicacies, sources said.
Eight delegates from each side were also invited for the dinner and they sat in tables little away from Xi and Modi's.
A traditional south Indian spread, including the trademark sambhar, was part of the menu.
According to available information, the two leaders were treated to a sumptuous dinner, comprising sambhar, a South Indian recipe made of lentils, besides other delicacies.
'Arachu vitta Sambhar', prepared from grounded lentils, certain spices and coconut to make it tastier was touted to be the key attraction in the menu.
The meal included 'thakkali rasam', made of tomato and 'imli' and 'kadalai (chick pea, generally) korma', besides halwa as the premier dessert, besides Ada pradhaman, a Kerala dessert.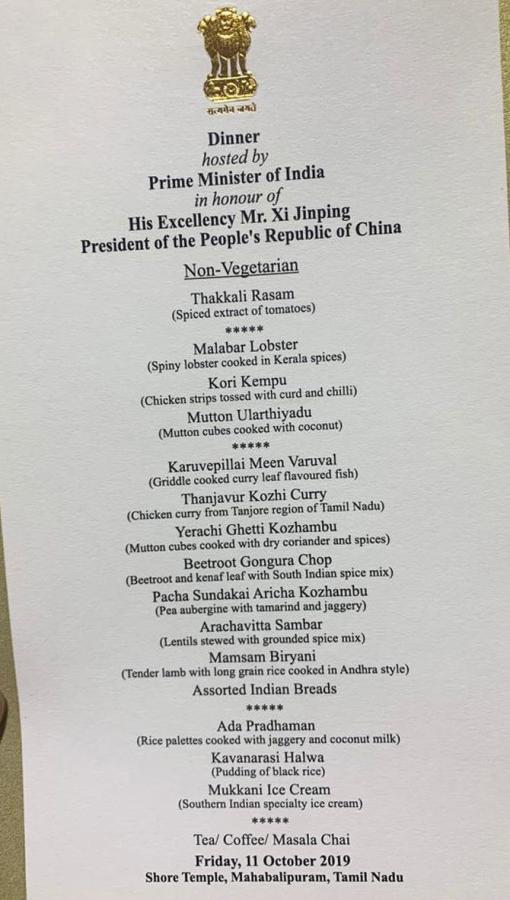 Further, the dinner hosted for Xi included non-vegetarian dishes made of lobster, chicken and mutton.
External Affairs Ministry Spokesperson Raveesh Kumar described the engagement between Modi and Xi on the first day of the Informal summit as 'highly productive'.
'Concluding a highly productive day with a pleasant conversation over a long dinner. PM @narendramodi & Chinese President Xi continued their exchange of views on deepening of the India-China partnership over a breathtaking Kalakshetra cultural performance followed by dinner,' Kumar tweeted.
Addressing a press conference after the dinner, Foreign Secretary Vijay Gokhale said the PM and the Chinese President resolved to work together in facing the challenges of radicalisation and terrorism besides emphasising on expanding trade and investment ties.
Gokhale said the two leaders discussed the challenges being faced by both the countries on account of terrorism.
"There was an acknowledgement that both the countries are very complex and very diverse.
"The two leaders said that these are large countries and that radicalisation is a matter of concern to both and that both would work together so that radicalisation and terrorism did not affect our multi-cultural, multi-ethnic multi-religious societies," he said.
Gokhale said Modi and Xi felt that terrorism and radicalisation are common challenges and both the sides will work together to overcome it.
He said the two leaders also resolved to boost trade and investment and that Modi raised the issue of trade deficit in the discussion.
In a tweet following the dinner, Modi said he was delighted to spend time with Xi.
'Mamallapuram is one of the most beautiful places in India, full of vibrancy. It is linked to commerce, spirituality and is now a popular tourism centre. I am delighted that President Xi Jinping and I are spending time in this scenic place, which is also a @UNESCO heritage site,' he said.
The sources said both Xi and Modi resolved to further energise bilateral development partnership and insulating the overall ties from differences over contentious issues.