Narendra Modi will turn 64, playing host to the visiting Chinese leader in Ahmedabad on Wednesday. Sheela Bhatt/Rediff.com reports.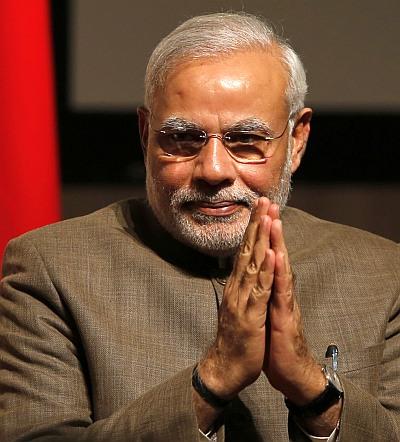 Prime Minister Narendra Modi will play guide on Wednesday, September 17, his 64th birthday.
He will accompany Chinese President Xi Jinping to the tranquil Sabarmati Ashram on Ahmedabad's Ashram road.
During the precisely timed 22 minute-long visit Modi will himself explain the ashram's historical significance to the Chinese leader.
Both leaders are likely to reach the Sabarmati Ashram at 5.08 pm. Interpreters fluent in Hindi and Mandarin will be available at the Gandhi monument.
After he returned from South Africa, Mohandas Karamchand Gandhi -- then, not yet the Mahatma -- established his first ashram in the Kochrab area of Ahmedabad on May 25, 1915. Gandhi was very keen to farm so he shifted on June 17, 1917 to the banks of the Sabarmati river.
Modi and XI will spend a lot of time on Wednesday beside the Sabarmati river. The prime minister will show Xi Hridaykunj, with its elegant, airy and simple architecture, where Gandhi lived. He will also take Xi on a tour of the ashram which has black and white photographs of India's freedom struggle.
Gandhi's famous mass movement-- the Dandi March -- began from the Sabarmati ashram on March 12. 1930. The Mahatma and 78 companions embarked on an unprecedented and unique march to protest against the British Salt Law.
Xi will be in Ahmedabad from 2.30 pm to 7.30 pm. At the airport he will be received by Chief Minister Anandiben Patel and Gujarat Governor O P Kohli.
Modi will welcome Xi at the Hyatt hotel where several agreements will be signed. The Ahmedabad Industrial Extension Bureau -- a one stop shop to set up industry -- will sign an agreement with the China Development Bank to make available finance to enhance industrial activities.
Ahmedabad is under tight security for the Xi visit. Three alternative routes have been planned for security reasons to transport President Xi and Prime Minister Modi around the city. Ahmedabadis are feeling the heat that citizens of New Delhi face daily during VVIP movements.
At the September 15 briefing, Ministry of External Affairs spokesperson Syed Akbaruddin said, "India's new leadership is in an intensive state of global engagement." In Gujarat, it will not be only intensive, but an embellished event with folk dances, ethnic food and Kutchi and Kathiyawadi embroidery on display in the posh tents put up at the Sabarmati river front.
Xi is accompanied by a high-powered delegation, consisting of more than 175 people. More than 40 Chinese journalists are accompanying Xi, who is also general secretary of China's Communist Party.
For the Ahmedabad and New Delhi visits, where agreements to enhance bilateral trade will be signed, Minister for National Development Xu Shaoshi and Commerce Minister Gao Hucheng have joined the president's delegation.
This is the third visit by a Chinese president -- and, importantly, by a general secretary of the Chinese Communist Party -- to India. President Hu Jintao came here in November 2006 and President Jiang Zemin ten years earlier, in November 1996. Xi Jinping's visit is both a rare and important one.