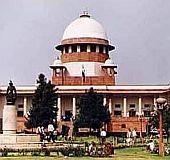 In a setback to the Gujarat government, the Supreme Court on Wednesday upheld the appointment of Justice (retd) R A Mehta as state Lokayukta by Governor Kamla Beniwal, saying it was done in consultation with the chief justice of the high court.
A bench of justices B S Chauhan and F M Ibrahim Kalifulla dismissed the Gujarat government's plea that the appointment was illegal as it was done without consulting it.
The bench said that the Governor is bound to act under the advice of the Council of Ministers, but the appointment of Justice Mehta is right as it was done in consultation with the chief justice of the Gujarat high court.

The apex court said that Justice Mehta can go ahead with his work as Lokayukta.
The Governor had on August 25, 2011 appointed Justice Mehta to the post of Lokayukta, which had been lying vacant for the last eight years.


The Gujarat government had moved the apex court against the January 18, 2012 order of the high court upholding the Governor's decision.
The high court's verdict had been delivered by Justice V M Sahai after a division bench gave a split decision on the legitimacy of the Governor's action in appointing Justice Mehta, a retired judge of the Gujarat high court, as Lokayukta.
The division bench of the high court had given the split verdict on the appointment issue on October 11, 2011.

While Justice Akil Kureshi had upheld the decision of the Governor, Justice Sonia Gokani had quashed the warrant of appointment terming it to be unconstitutional.
Challenging the high court's order in the Supreme Court, the state government had contended that the personal discretion exercised by the Governor in unilaterally issuing the warrant of appointment of Lokayukta was "unwarranted".