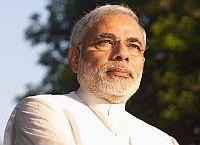 Gujarat Chief Minister Narendra Modi will make his first appearance as member of BJP's Central Election Committee which meets in New Delhi on Friday to decide on the party candidates for the May 5 Karnataka elections.
This will be Modi's first major participation in the party's affairs at the national level as the committee takes a final call on the candidates it plans to field in Karnataka.

He was appointed as member of the BJP parliamentary board, its highest decision-making body, and also a member of the party's Central Election Committee by BJP President Rajnath Singh when he announced his new team on March 31.

The BJP which formed its first government in any southern state has been on the backfoot ever since its former Chief Minister B S Yeddyurappa quit and formed his own party.
Karnataka will go to polls on May 5 to elect its 224-member assembly and counting of votes will be held on May 8. The tenure of current Karnataka assembly expires on June 3.
While 36 constituencies are reserved for SCs, 15 are reserved for STs in the state.
The poll process in Karnataka will start on April 10 with the issue of notification when candidates can start filing nominations. The last date for nominations is April 17 and after scrutiny the next day, the last date for withdrawal of candidatures is April 20.
There are a total of 4.18 crore voters in Karnataka.