Prime Minister Narendra Modi on Wednesday said India and Australia will keep working towards a vibrant bilateral friendship which is also in the interest of global good as he concluded his three-day visit to this country.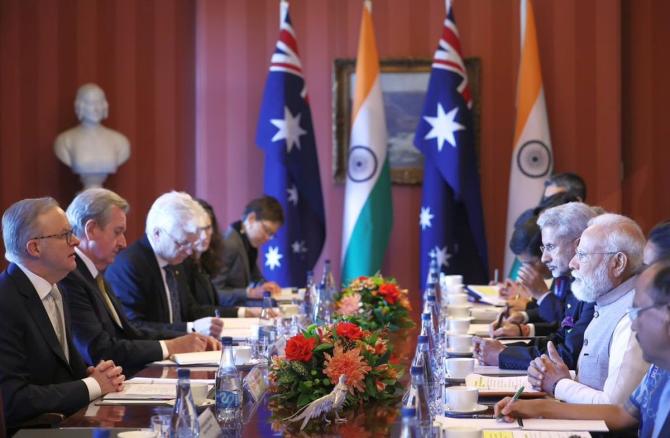 Modi left for home after holding wide-ranging talks with his Australian counterpart Anthony Albanese and attending a special community event in Sydney.
He also visited Japan to attend the G7 Summit and travelled to Papua New Guinea before arriving in Australia.
"A successful three nation tour concludes! PM @narendramodi emplanes for Delhi following a three nation visit to Japan, Papua New Guinea and Australia, fostering stronger linkages with partner countries," Spokesperson of the ministry of external affairs Arindam Bagchi tweeted.
"From productive talks with PM @AlboMP to a historic community programme, from meeting business leaders to eminent Australians from different walks of life, it's been an important visit which will boost the friendship between India and Australia," Modi tweeted.
Modi thanked the people of Australia, the Australian government and Albanese my for their hospitality.
"We will keep working towards a vibrant India-Australia friendship, which is also in the interest of global good," he said.
During their meeting on Wednesday, Albanese and Modi announced the finalisation of the Australia-India Migration and Mobility Partnership Arrangement, which is aimed at promoting two-way mobility of students, academic researchers and business people.
They also reiterated their shared ambition for an early conclusion of the ambitious Comprehensive Economic Cooperation Agreement that is expected to significantly expand bilateral trade ties.
The two leaders welcomed the progress towards establishing an India-Australia green hydrogen task force. The terms of reference for the task force were agreed upon during the talks.
After the talks, Albanese also announced the establishment of a new Australian Consulate-General in Bengaluru primarily to connect Australian businesses to India's booming digital economy and innovation ecosystem.
Prime Minister Modi used a cricket analogy to describe the fast-expanding India-Australia ties, saying the relations have entered the "T-20 mode".
"The India-Australia friendship is a special one!" Modi tweeted. Prime Minister Modi also met Governor General of Australia David Hurley and Leader of the Opposition Peter Dutton.
"Wonderful to catch up again with a great friend of Australia, @narendramodi. Proud of the special and growing relationship Australia has with India and may it go from strength to strength in the years ahead," Dutton tweeted.
On Tuesday, Modi along with Albanese addressed the Indian community in Australia at the special event at Qudos Bank Arena.
Modi said the strongest and biggest foundations of India-Australia relations are mutual trust and respect.
They renamed a suburb in Sydney as 'Little India', reflecting the strong bond between the two strategic partners.
Modi announced that India will open a consulate in Brisbane to fulfil the long-pending demand by the diaspora.
He also interacted with prominent Australian public figures working in diverse fields like science, artificial intelligence, social work and art and music and encouraged them to contribute to strengthening the India-Australia relationship.
In Papua New Guinea, he co-hosted with his counterpart James Marape the first Forum for India-Pacific Islands Cooperation (FIPIC) summit and met leaders from the Pacific Island nations to boost bilateral ties.
During the summit, Prime Minister Modi conveyed to the Pacific island nations that they can see India as a reliable development partner as it respects their priorities and its approach to cooperation is based on human values.
The two leaders also held bilateral talks.
In Japan, Modi attended the summit of the G7 advanced economies during which he also met several world leaders, including Ukrainian President Volodymyr Zelenskyy, French President
Emmanuel Macron, Japanese counterpart Fumio Kishida, South Korean President Yoon Suk Yeol and British Premier Rishi Sunak.
He along with US President Joe Biden, Japanese Prime Minister Kishida and Albanese also attended the 3rd in-person Quad Summit.