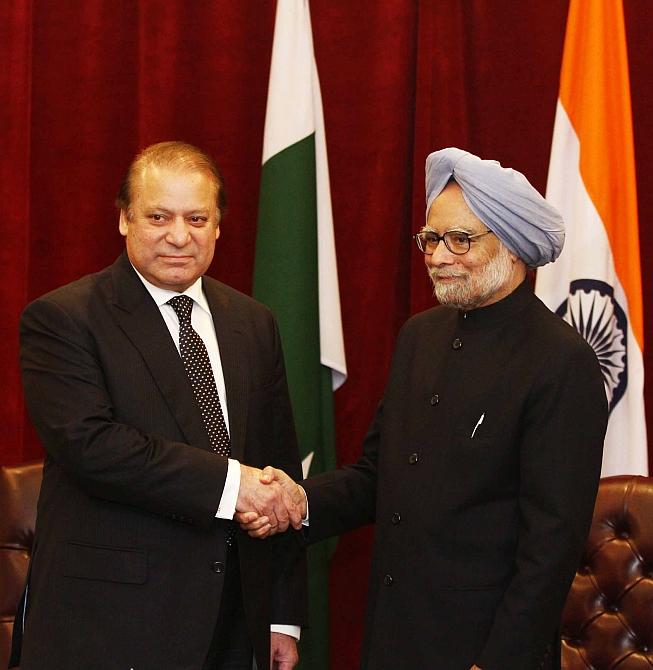 'Pakistan is keen on a peaceful process. We would like to have a sustained and comprehensive dialogue process.'
'At one point Pakistan wanted no dialogues with India without the resolution of the Jammu and Kashmir issue. That didn't work then nor will it work in the future.'
Pakistan High Commissioner Abdul Basit tells Bikash Mohapatra/Rediff.com what Islamabad expects from the new government in New Delhi.
The outcome of the Lok Sabha election notwithstanding, whosoever forms the government on May 16 has at least one assurance from our neighbours. The Nawaz Sharif-led Pakistan government, which took office last June, is keen to focus on furthering peaceful relations with India.
"Our prime minister is very clear about having a good relationship with India," assures Pakistan High Commissioner to India Abdul Basit.
"We have a relatively new government in Pakistan. And our PM has so far been categorical about his views, policies and has articulated the same in his 'Region-First' vision."
"We know unless we have a normal relationship with India it will be very difficult for us to put ourselves in the trajectory of growth and development and attain prosperity," the diplomat adds.
Basit expresses confidence that a new chapter could be written in the history of India-Pakistan ties.
"Peace is in our mutual interest," he says.
"We have been involved in military conflicts in the past and we have seen nothing comes out of it. Pakistan is keen on a peaceful process," explains Basit, adding, "Secondly, it is important to have dialogue."
"Unfortunately, since the tragic attack on Mumbai, things have move forward in fits and starts. We would like to have a sustained and comprehensive dialogue process."
"Again, this dialogue shouldn't be seen as one country doing favour to another," the diplomat says. "Instead, we need to engage ourselves in an uninterrupted dialogue process."
Asked if a relationship based on trust is possible when Pakistan-promoted terrorism keeps raising its ugly head at regular intervals, Basit, who replaced Salman Bashir as high commissioner in March, says, "Since I arrived in India, I've been reading about how Pakistan is abetting terrorism in the region. I'd most humbly submit that no country in the world has been affected as much by terrorism as Pakistan."
"In the last decade we have lost about 60,000 civilians and close to 100 billion dollars because of terrorism, and it has dragged us back in every sphere."
"We continue to face huge problems how to put our economy back on track. So no other country will be more interested in eradicating terrorism than Pakistan."
To ensure that the distrust between the neighbours makes way for an atmosphere of mutual trust, he felt "There shouldn't be any pre-conceived conditions (for a dialogue."
"At one point Pakistan wanted no dialogues with India without the resolution of the Jammu and Kashmir issue. That didn't work then nor will it work in the future," he says, adding, "Everyone in Pakistan, from the government to the people, is eagerly waiting to see who forms the new government here in India."
"We have existing frameworks, so there's no need to invent new ones, but to carry forward the same. Also, while we are engaging with each other it is important to build on our past accomplishments. We have also achieved a lot of positives -- treaties, protocols, agreements etc -- as well in the last six decades. It is important to honour these agreements and put them into action."
"We wouldn't be able to achieve results in all areas simultaneously," he concedes.
"The two countries have to decide once and for all that whether we would like a state of perpetual animosity or move beyond that. If we make this fundamental decision, rest assured things will move forward very quickly."
Image: Prime Minister Manmohan Singh and his Pakistani counterpart Nawaz Sharif in New York. Photograph: Paresh Gandhi/Rediff.com