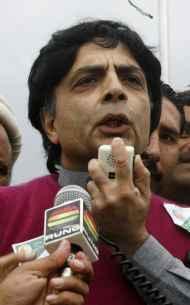 Hours after Pakistani Interior Minister Chaudhry Nisar Ali said that Narendra Modi coming to power would 'destabilise the peace in the region', the Bharatiya Janata Party slammed Pakistan, asking it to mend its ways and saying the manner in which they have been functioning with India will not work.
The opposition party also added that Pakistan should not interfere in India's internal affairs. BJP spokesperson Meenakshi Lekhi said Modi had never talked about attacking Pakistan and was instead questioning Home Minister Sushilkumar Shinde's attitude of making public the government's efforts to bring back underworld don Dawood Ibrahim, responsible for the 1993 Mumbai blasts.
"We will tell Islamabad to mend their ways, the manner in which they have been functioning and trying to work with India will not work," Lekhi said. She added that just like India did not interfere in electoral politics or internal affairs of other countries, the same was expected from them. "What I don't understand is, this person, Chaudhary Nisar Ali Khan, is he admitting to the presence of Dawood Ibrahim in Pakistan? When a person of the opposition party and the incumbent prime minister is making some remarks about the internal working of the country, how is Pakistan affected with that?" she asked.
The entire situation arose after Modi had recently accused Sushilkumar Shinde of giving media statements instead of acting against Dawood Ibrahim. Reacting to questions about Shinde's statement that India would bring back Dawood from Pakistan, Modi said, "Can such things be achieved through media. Are these things to be revealed through newspapers? Did Americans talk with bin Laden? Did America hold a press conference on its plans about tracking down bin Laden? "What has the government done? They don't have minimum maturity. I am ashamed that the home minister made such statements," Modi had said.
Reacting to this, the Pakistani interior minister had said that those who are giving statements that Pakistan is sheltering Dawood and launching operation on Pakistan soil "should realise that neither Pakistan is a weak country to be afraid of such threats, nor Pakistani nation can be impressed with such irresponsible statements."
In her press conference, defending Modi, Lekhi added that India always practised non-interference in affairs of others, 'except when somebody beheads our soldier and sends the decapitated body'.
The BJP spokesperson further added that the words attributed to Modi by the Pakistani minister were incorrect. "Further in the statement he (Pakistan minister) has also said that Narendra Modi has said that if he wins the elections he would bring fugitive underworld don Dawood Ibrahim to India to be tried for 1993 blasts in Mumbai. Did you read or did you hear what Mr Modi has said? From where does all this come from? Who is briefing Mr Chaudhary," Lekhi said.
She added that Pakistan did not need to accept Dawood's presence unless it was somehow involved in the 1993 Mumbai blasts. "What have they got to do with the blasts of 1993? I think Pakistan needs to issue statements so far as their involvement in blasts is concerned. Is there any involvement which Pakistan is worried about? Is Dawood Ibrahim in Pakistan? I think Pakistan should know what they are talking about."
Lekhi said Pakistan had contended that Modi had crossed all limits in enmity with Pakistan and Muslims. Are they the thekedars (custodians) of muslims? With the kind of Shia-Sunni riots going on in Pakistan all the time, how many muslims are getting killed in Pakistan? What kind of human rights violation is happening in Pakistan? We choose not to speak on these subjects," she added.
Image: Pakistani Interior Minister Chaudhry Nisar Ali Khan