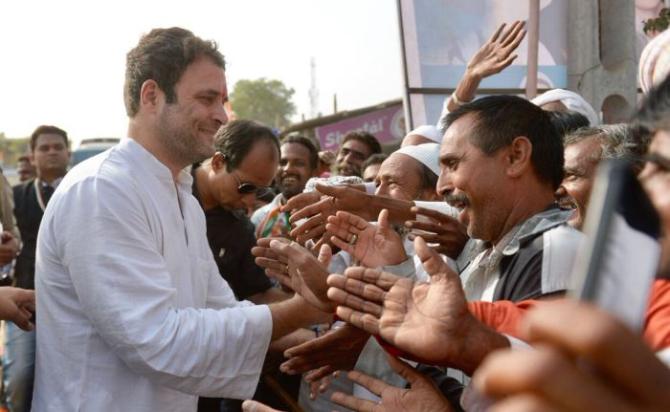 IMAGE: Congress vice president Rahul Gandhi in Padla, Gujarat on Monday. Photographs: Courtesy @INCIndia/Twitter

Congress vice president Rahul Gandhi on Monday alleged that Narendra Modi made money 'disappear' from Gujarat through 'magic' in the last two decades of the Bharatiya Janata Party rule, as he stepped up his attack on the prime minister in the poll-bound state.
Gandhi's jibe at Modi came after a man met him during an interaction with members of the notified and de-notified tribes in Harij village in the district and lamented that he was once a snake charmer and now makes a living by performing magic.
Gandhi then asked him to perform some tricks and the man obliged. During his brief performance, the man produced some money through tricks.
"....Narendra Modi did magic in Gujarat for 22 years like you did. The difference is that you produced money but Modiji made it disappear," Gandhi told the gathering after the performance got over.
He assured the members that their problems and difficulties will be considered by the party.
"We are preparing the manifesto of the Congress Party (for December polls). Earlier 2-3 leaders used to make the manifesto behind closed doors. This time we are preparing the manifesto by consulting people," the Congress vice president said.
He asked the members to send a delegation to the manifesto committee and apprise them about their issues.
"Tell them what do you want exactly. We will listen to your delegation and we will include your demands in our manifesto," Gandhi said.
Later addressing a public meeting in Varana, Gandhi asked Modi to respond to allegations of manipulative share trading by a firm linked to Gujarat Chief Minister Vijay Rupani.
"This charge (against Rupani) is not levelled by media. The body which controls the stock markets says that your chief minister is beimaan (dishonest). They have fined him," Gandhi said.
He also raked up allegations of profiteering against the firm of BJP president Amit Shah's son Jay.
"No businessmen, howsoever clever, can make Rs 80 crore from Rs 50,000 in a span of few months. But it happened in the company owned by Amit Shah's son after the BJP came to power in 2014," he said.
Referring to Modi's promise that he won't let corruption thrive under him, Gandhi said the country wants to listen what the PM has to say about Rupani or Jay Shah's dealings.
"Modiji used to say 'na khaunga, na khane dunga'. People of the country want to listen what you (Modi) have to say about the company of Amit Shah's son and on Vijay Rupani. People of Gujarat will believe that you are not chowkidar (watchman) but bhagidar (collaborator) if you don't say anything on these issues," he said.
The Securities and Exchange Board of India (SEBI) has reportedly fined 22 entities, including Rupani's HUF (Hindu Undivided Family), for alleged manipulative trading in the shares of a company, Saran Chemicals Ltd, during the January-June 2011 period.
Rupani has said that the SEBI set aside the fine of Rs 6.91 crore imposed on 22 entities, including his firm.
Gandhi also targeted the Modi government over demonetisation, the GST, unemployment and various issues related to farmers.
He visited Rani Ki Vav, a UNESCO world heritage site in Patan, and a cotton growing farm to inquire how cotton is grown.
During his interaction with a group of Dalits in Patan, Gandhi assured them of implementing all the promises made in the Congress's manifesto.
He also termed the Rashtriya Swayamsevak Sangh, the BJP's ideological mentor, as a 'manuvadi institute'.
'I am devotee of Lord Shiva'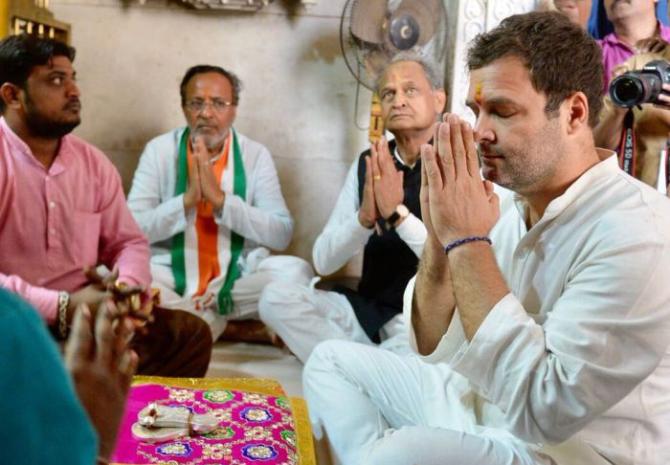 IMAGE: Gandhi with Congress Gujarat in-charge Ashok Gehlot and other party leaders at Bahucharaji Temple, Mehsana on Monday.

Battling allegations of playing the soft Hindutva card by visiting temples during his election campaign in Gujarat, Gandhi said he is a devotee of Lord Shiva.
Gandhi, who has visited a number of temples since he kicked off his campaign by offering prayer at Dwarkadhish temple Dwarka in September, on Monday had a darshan of Veer Meghmaya in Patan, Khodiyar Maa in Varana and Maa Bahuchar at Becharaji in Mehsana district.
"I am a devotee of Lord Shiva. Let them say whatever they want to say. My truth is with me," Gandhi told reporters in Becharaji when asked about the BJP's criticism of his visits to various temples.
The BJP, which has often accused the Congress of Muslim appeasement, termed Gandhi's frequent temple visits an attempt to attract Hindu voters. However, the Congress countered the charge, saying the saffron party does not have the 'patent on devotion'.
Gandhi started his campaign today with a visit to the Veer Meghmaya temple, sacred to the members of the Dalit vankar community.
Later, he visited Khodiyar Maa temple and Maa Bahuchar temple.
Gandhi had kicked off his tour of north Gujarat last Saturday after offering prayers at the Akshardham temple. He also offered prayer at the famous Ambaji temple. He visited two temples yesterday as well.
The Congress leader had climbed around 1,000 steps to seeks the blessings of Maa Chamunda in Chotila a few weeks ago.
"We are not against his temple visits. We wish that everybody goes to temples and follows our tradition. But I want to ask....he (Gandhi) lives in Delhi and there are many temples there. Has he ever gone to any temple in Delhi? Has he visited Delhi Akshardham (Delhi) temple?" state BJP in-charge Bhupender Yadav said.
Deputy Chief Minister and BJP leader Nitin Patel had earlier said people can see through Gandhi's visits to temples, which he termed a 'gimmick' for votes.
Patel had also asked the Congress to shed its 'pseudo secularism' and respect mainstream Hindutva.
The Congress had countered the charge, saying the BJP does not have the sole patent on devotion and visiting temples.
'Rahul Gandhiji visited Jain temple and Gurudwaras apart from Hindu temples. We believe in secularism," Congress leader Shaktisinh Gohil said.
The Congress is trying to form a bloc comprising Patidars, Dalits and OBCs to thwart the BJP's attempts to retain power in the state which it has ruled for close to two decades without a break.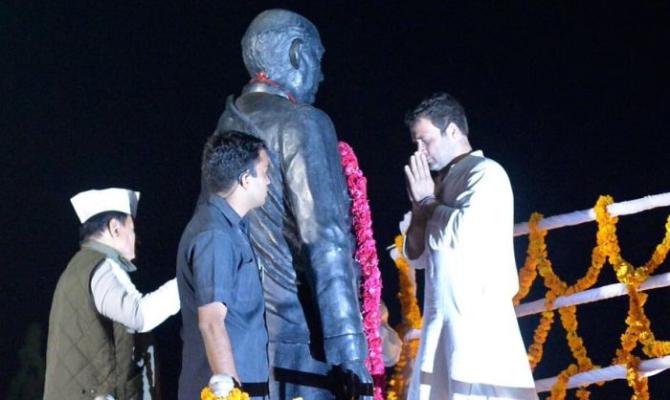 IMAGE: Gandhi garlands statue of Sardar Patel.

'Storm in eyes, troubled folks, but why is 'Saheb' quiet'
On Twitter, Gandhi recalled lines from a Bollywood film song to take an apparent swipe at Prime Minister Narendra Modi over the toxic air in the national capital.
Gandhi gave a new twist to a couplet from a song in the 1978 film Gaman, which looked at life in a city, and without naming Modi, indirectly referred to government inaction on pollution.
'Seene mein jalan,aankhon mein toofaan sa kyun hai. Iss sheher mein har shakhs pareshaan saa kyun hai...(Ache in the heart, storm in the eyes, why is everybody in the city so troubled),' he tweeted, in a clear allusion to the high levels of air pollution.
He added a new line to the words, bringing in a 'Saheb' who remains quiet despite being in the know.
'Kya batayeinge Saheb, sab jaankar anjaan kyun hain,' Gandhi wrote on Twitter.
He also posted with his tweet a picture of children wearing masks and a news report that said 18 lakh people died in India because of air pollution.
The Congress vice president has these days taken to Twitter with a series of one-liners, often using popular cultural idioms, to attack Modi, his ministers and the government.