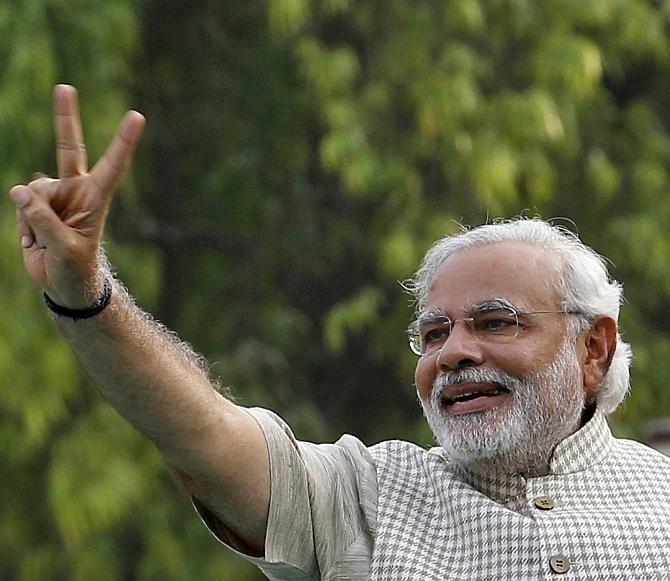 Narendra Modi and Barack Obama will ponder over ties twice over. Nayanima Basu reports
Prime Minister Narendra Modi is going to hold two comprehensive meetings with United States President Barack Obama, to address the roughness that has crept into the ties between both countries, which also refer to each other as "natural allies".
Both leaders will meet face-to-face first on September 29 and then on September 30 in Washington, after the PM's series of meetings with other world leaders, on the sidelines of the United Nations General Assembly in New York on September 26 and 27, a top official told Business Standard, on condition of anonymity.
Modi was once formally barred from entering the US, after the Gujarat riots of 2002. Partly due to this background, the US government has worked out a "special gesture date" for Modi because according to the protocol, the president does not meet any heads of government separately during the UN general assembly.
Since Modi has come to power with a big victory, the US government has tried to build bridges with him. On September 28, Modi will be addressing the Indian community in New York City's Madison Square Garden, the first Indian PM to do so there.
Some of the issues that will top Modi's agenda during his meeting with President Obama are the US immigration bill clamps, intellectual property rights issues, standoff at the World Trade Organisation on trade facilitation, expanding of a two-way trade, the series of WTO disputes and other strategic and defence issues.
On September 29, Modi will first take up some issues with Obama that include exploring ways to increase diplomatic harmony after the row concerning Indian diplomat Devyani Khobragade. This will be followed by a full-fledged India-US strategic dialogue, with a special focus on trade and investment. India and the US have been at loggerheads recently over issues concerning India's trade and industrial policies.
The US, on its part, is expected to push IPR and WTO matters with India. The US is especially irate with India's IPR regime in the pharmaceuticals sector that has a provision for compulsory licensing. The US administration is worried that other developing countries might follow, adversely impacting the margins of its multinational pharmaceutical firms.
Recently, during an interview with CNN, Modi has remarked that India and the US are tied together by "history and culture" and that these ties "will deepen further."
Just days before the visit, the US has candidly appointed an Indian-American as its new ambassador to India Richard 'Rahul' Verma.
Coinciding with the PM's visit, September 30 has also been designated by the US senate as US-India Partnership Day.
Ever since Modi has come to power with a thumping victory, the US has left no stone unturned to build bridges with the new government. In less than 100 days of his coming to power, US Secretary of State John Kerry and defence secretary Chuck Hagel have made rounds of India meeting all the senior government officials, signaling an improvement in the relationship.

Image: Prime Minister Narendra Modi will meet Obama on September 20 and 30 in Washington DC