'Singing the national anthem makes you a very proud Indian.'
Hitting all the right notes, Kavita Krishnamurthy, who is slated to sing the national anthem at the Madison Square Garden reception for Prime Minister Narendra Modi, tells P Rajendran/Rediff.com that being chosen for such an event gives her great pride.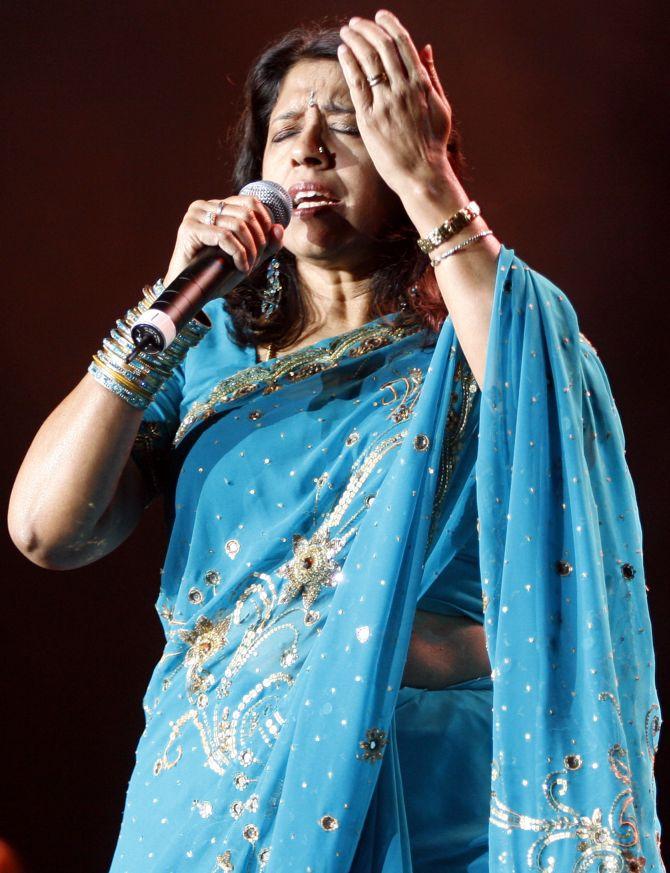 Image: Singer Kavita Krishnamurthy is slated to perform at Madison Square Garden along with her husband violinist Dr L Subramaniam. Photograph: Reuters
Hours before she takes the stage at the Madison Square Garden to sing the Indian national anthem for the community event being organised for Prime Minister Narendra Modi, singer Kavita Krishnamurthy is excited and nervous.
"It is a big honour to perform when the prime minister of India is here. When he is here and you are performing for the entire Indian community then you feel you are representing the country. Furthermore, singing the national anthem just makes you a very proud Indian," says Krishnamurthy.
Krishnamurthy has performed at the iconic arena once in the past while her husband Dr Lakshminarayana Subramaniam, the noted violinist, who is also slated to perform at the event, has performed at the Madison Square Garden with George Harrison in 1971 at the celebrated Concert for Bangladesh.
"We are a family of musicians and being chosen for such an event is great. You are representing your nation at an important event. Additionally, you are performing in front of all the most important people -- the Indian Americans who are interested in taking the country ahead. This is a fantastic example of Indo-US cooperation,: she adds.
Krishnamurthy sings high praises of Modi, describing him as dynamic. "He's trying to make India more prominent on the map of the world."
When asked if she was considering opening a wing of the family's Subramaniam Academy of Performing Arts in the US too, she said the US version of the school may be a good idea, but that they needed the right kind of people to help. "Sitting in India, it is difficult for us to do it on our own. So, it would be wonderful if it could happen, provided we get the right support. If somebody did approach us, we are sure we can work it out."