Suspected Bodo militants on Tuesday killed 37 people -- mainly tribals -- and they included four women in a series of attacks at four places in Sonitpur and Kokrajhar districts of Assam. The police said that 10 others were also injured in the attack unleashed by heavily armed militants belonging to the Songbijit faction of National Democratic Front of Bodoland-Songbijit that is opposed to peace talks.
Curfew was clamped in areas under four police stations in Sonitpur district, it said.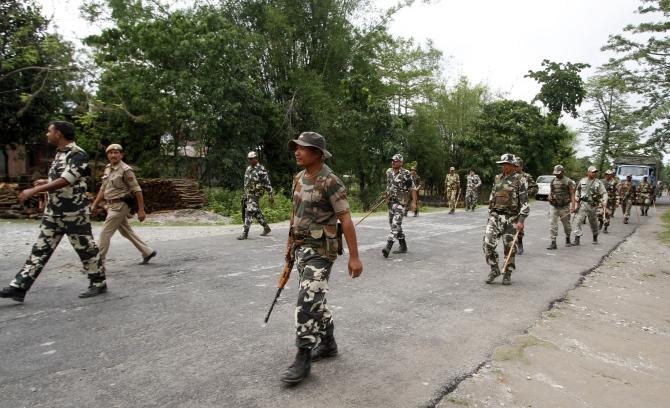 Security personnel patrol during a curfew. Photograph: Utpal Baruah/Reuters
Prime Minister Narendra Modi condemned the killing of innocent people as an act of cowardice. "Our thoughts and prayers are with the families of the deceased," he tweeted. Security personnel patrol during a curfew. Photograph: Utpal Baruah/Reuters Modi said he spoke to Assam Chief Minister Tarun Gogoi and Union Home Minister Rajnath Singh. "Rajnathji will travel to Assam and take stock of the situation," he said.
Singh said killing of innocent people for any cause can never be justified. The Centre is monitoring the situation and the paramilitary forces have been rushed to the spot, he tweeted.
Singh said he spoke to Gogoi who apprised him of the situation. Centre will provide all assistance to the state, he added. A spokesperson of Assam Police said 30 persons were gunned down in Sonitpur district alone, while four were killed in Kokrajhar on Tuesday evening.
"In Sonitpur district, 30 people have been killed -- 24 were gunned down in Biswanath Chariali and six were killed in Dhekiajuli," the spokesperson told PTI. In Kokrajhar district, four deaths have been confirmed at Pakhiriguri, while three more are suspected to have been killed at the interior place of Ultapani, he said. Police are yet to recover the bodies from Ultapani. "All these people were killed in serial attacks by suspected militants of NDFB-S," the official said.
ll those killed in Sonitpur attack were stated to be Adivasis, said Superintendent of Police Sanjukta Parasar. A group of NDFB-S militants with sophisticated arms fired at people in Sonajuli under Biswanath Chariali sub-division in Tinisuti near the Arunachal Pradesh border, she said. In this attack, 24 persons were killed and six others injured, she said. The incident site is located very near to the inter-state border between Assam and Arunachal Pradesh.
An injured is treated at a hospital after militants attacked in Kokrajhar district of Assam. Photograph: PTI Photo