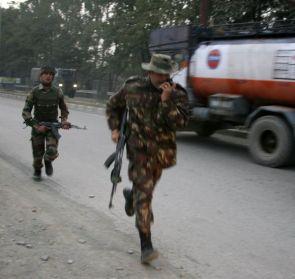 One person, who has mobile transmission towers installed inside his residential compound, was critically injured after suspected militants fired on him in north Kashmir's Baramulla district on Wednesday, the police said.
Imtiyaz Ahmad, a resident of Aram Mohalla of Pattan area of the district, was fired upon by unknown assailants near his home this evening, a police officer said. He said Ahmad was rushed to a local hospital where from he was referred to a hospital here for treatment.
Although it was not immediately clear as to why he was targetted, the police said that the installation of the towers could be the reason. Ahmad has two mobile phone transmission towers installed at his house.
This is the fourth such attack in the district since Saturday. A grenade was hurled at a residence where a mobile transmission tower was installed on Saturday night, but it failed to explode.
Suspected militants on Monday shot dead an employee of a BSNL franchisee and injured two others in Sopore town. The father of a sarpanch, who had a mobile transmission tower installed inside his residential compound, was on Tuesday shot dead by unidentified gunmen in Sopore town.
Telecom operators have been threatened earlier and, although officials were tight-lipped as to why the militants were targeting telecom installations, sources said the ultras are upset about the 'theft' of their communication equipment from mobile transmission towers in Sopore and surrounding areas earlier this month.
The militants had allegedly installed communication equipment atop the towers of private and PSU companies. Several separatist and militant outfits, including Lashkar-e Tayiba and Hizbul Mujahideen, have condemned the attacks.
With inputs from Mukhtar Ahmad in Srinagar