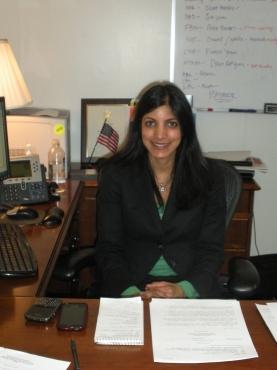 Parita Shah, one of United States Commerce Secretary Gary Locke's closest advisers, is among the several second-generation Indian Americans serving in the Obama administration. 
Shah, 33, has flown under the radar since her appointment because she has scrupulously eschewed the spotlight.
Shah, chief press secretary to Locke, is always by his side, whether it is sitting in on interviews or traveling with him across the country and around the world -- as she will next week when Locke leads a high-tech trade delegation to India -- armed with facts and figures and always on hand to provide minute details to keep her boss apprised and updated on all that he needs to know and whom he needs to meet.
"Parita is a valuable member of my staff," Locke told India Abroad, "and I depend on her daily for advice as we move forward the goals of the Department of Commerce and the Obama administration. Her contacts in government and the media are considerable and she is well respected in both communities. Her insights and background bring a unique perspective to the important challenges we face in America. I feel very fortunate to have her on my team."
Michigan-born Shah, moved to Anaheim Hills, California, when she was 5. She is an alumna of the University of Southern California, Columbia University's School of International and Public Affairs and the University of Cambridge in England.
As an undergrad, she did a semester in Washington, DC, interning in 1998 at the White House in the office of then First Lady Hillary Clinton. After graduation, Shah went on the road as part of President Bill Clinton's advance team traveling all over the country and the world to plan his events, including the historic visit to India in March 2000.
Shah continued to do this even after Clinton's presidency, as part of the Clinton Foundation. One of her first trips with Clinton was to India in 2001 in the immediate aftermath of the devastating Gujarat earthquake.
After her master's, Shah joined the John F Kerry presidential campaign in Washington, DC in the summer of 2003 as the deputy director of advance and later moving to the communications office during the general election.
There, she met Pete Selfridge, who also worked for the Kerry campaign. Shah and Selfridge -- who had also worked for the Clinton administration and who now works for Vice President Joseph Biden as director of his advance team -- married in 2007.


After the Kerry campaign, Shah moved to California's Bay Area and worked as communications director for a small nonprofit focused on issues of human genetics, including stem cell research.
But the pull of politics was too great; she moved to Los Angeles as press secretary in the office of Los Angeles Mayor Antonio Villaraigosa. She took a three-month leave of absence to work on the 2008 presidential campaign as communications director in New Mexico for Barack Obama. In 2009, Shah and her husband moved back to Washington to work in the Obama administration.
"As a daughter of immigrants, I always thought that a career in public service would be a way to give back to the country that gave so much to my family," Shah told India Abroad. "I am fortunate to have parents who were 100 percent supportive of my pursuing a career that was unconventional for most Indian Americans. They raised me to have my own opinions and to pursue a career that I felt passionate about. I was barely 14 years old when I watched one of then presidential candidate (Bill) Clinton's campaign rallies on television, and I was immediately hooked and told my family I would work for him one day."
She added: "President Obama's election was historic and I feel fortunate to have been a part of the campaign and to serve in an administration working hard every day to strengthen our economy and put Americans back to work."
Shah's parents Harshad and Usha Shah hail from Gujarat. Harshad is a cardiologist, while Usha is a homemaker. Shah's older brother Mihir Shah lives in San Jose, California with his family and works for Brocade Communications.
Image: Parita Shah