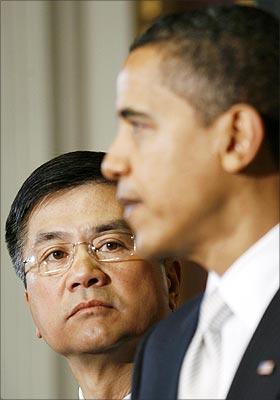 US President Barack Obama nominated former Governor of Washington Gary Locke as his Commerce Secretary on Wednesday.
"Gary is the right man for this job," Obama said, making the announcement at the White House.
Locke, who is the third choice for this post, became America's first Chinese-American governor when he served two terms in the Washington state house from 1997 to 2005.
"Gary will be a trusted voice in my Cabinet, a tireless advocate for our economic competitiveness and an influential ambassador for American industry who will help us do everything we can, especially now, to promote our industry around the world," Obama said.
Speaking on the occasion, Locke said "We will harness the resources and the talent of the department of commerce to help you fulfill your commitment to the American people to build a stronger and more prosperous nation."
Obama originally gave the post, which requires Senate confirmation, to New Mexico Governor Bill Richardson, who withdrew in January after the disclosure that a grand jury is investigating allegations of wrongdoing in the awarding of contracts in his state.
Image: US President Barack Obama with Washington Governor Gary Locke. | Photograph: Kevin Lamarque/Reuters