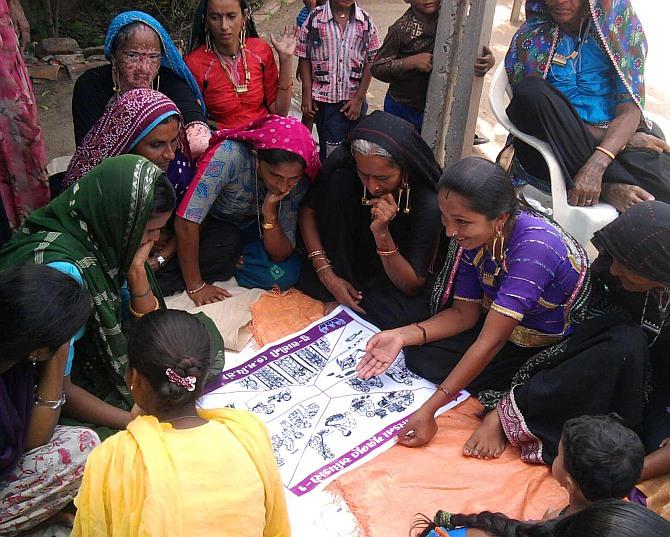 The salty wind blowing over Bhimasar in the arid Kutch along India's western coast is whispering stories of hope, dreams and aspirations.
Located nearly 300 km from Gujarat capital Gandhinagar, Bhimasar set up a community radio station of its own in 2012 with support of UNESCO and UN Women, a body that advocates gender equality and work towards empowering women.
Saiyare jo Radio, meaning 'women's friend', a part of UN Women's information technology based intervention is quietly ushering in myriad changes in the lives of women of 26 villages of Nakhatrana block.
For Sharifa Sedat, 27, explaining the nitty-gritties of radio handling to Executive Director of UN Women Phumzile Mlmabo Ngucka, who is on a five-day India trip, was a big leap from her days in depression after being abandoned by her husband.
"I was disturbed after my divorce but the arrival of 'Saiyar Re Jo' has helped me turn my life around. I can edit as well as broadcast programmes and am a lot more confident now," said Sarifa.
Stories like these, from the arid fields of rural Gujarat, were shared in a day-long "information fair" organised over the weekend at Shihore Block of Bhavnagar district of Gujarat as part of an Information and Technology based intervention project of UN Women.
The fair was attended by UN Women Executive Director Phuzmile Mlambo Ngucka, Deputy Executive Director Lakshmi Puri and UN Women South Asia Office representative Rebecca Reichmann Tavares.
Terming the women as "frugal innovators", Phumzile, in her address praised them for "bridging the digital divide".
"You people are bridging the knowledge gap, the digital divide and redefining what intellect is all about," Phuzmile said.
Appreciating the efforts of Kutch Mahila Vikas Sangathan, of which 'Saiyare Jo Radio' is a part, she said, "What you people have achieved in a sense is the real reason behind our efforts as part of UN Women."
Preeti Soni, director of Kutch Mahila Vikas Sangathan, said the project was a natural corollary to 'Ujjas Radio', which was broadcast in a slot of AIR Rajkot since 1999.
"After Government of India formulated policies pertaining to community radio, we applied and our license got sanctioned in 2012," she said.
The station, which is fully managed by the women of the locality, air their concerns in the local community.
"The stories that are broadcast, after adding an informative aspect, help the women of the community in developing an understanding of the concept of freedom," Preeti added.
Saying that it was tough initially to make the station stand on its feet, Soni said that they had started out from a makeshift room donated by a villager.
"Before UN Women came into the picture, a village woman, Sitaben rented out her space to us, where we started our operations," she said.
Two other organisations, apart from Kutch Mahila Vikas Sangathan, Area Networking and Development Initiatives (ANANDI) and IT for Change were part of the event organised to appreciate their efforts in using technology in giving voice to marginalised women.