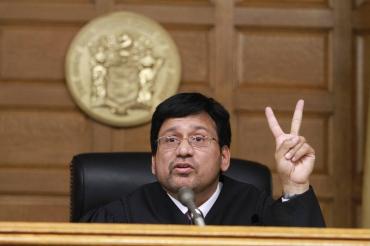 Sohail Mohammed has become New Jersey's first Indian-American and second Muslim judge.
Mohammed, 47, was sworn-in at the Passaic County Superior Court, where he will be serving as a judge.
"I could barely believe that I was in the same place to take oath as a judge where I had come in the 1980s for taking my citizenship oath, once to perform jury duty and later to take oath as an attorney. It was so gratifying! My father, who passed away six years ago, would have been the happiest person today because that is what he had wanted me to become," he said.
The path to judgeship has not been an easy one for Mohammed. Three years ago, New Jersey State Senator John A Girgenti (Democrat) recommended Mohammed for the position of state judge, but the process of judgeship never materialised. Even when New Jersey Governor Chris Christie, who has known Mohammed for over ten years, nominated him, right-wing bloggers criticised the governor, who is a Republican, for nominating the Indian American, who they alleged had supported radical Islamists and defended terrorists in Guantanamo Bay.
Finally the NJ Senate Judiciary Committee, including its Republican members, approved his nomination.
"I am deeply honoured and humbled by the governor's nomination and the confirmation by the senate. It is such a great honour," Mohammed said.
Mohammed did not always want to study law. He graduated from the New Jersey Institute of technology with a bachelor's degree in chemical engineering. He was bitten by the legal bug after his jury duty in Passaic County.
"I was so impressed by the administration of justice that I decided I should pursue a legal career," he said in an earlier interview.
Since 1993, when he graduated from Seton Hall University School of Law, Mohammed has used his engineering skill to bolster his legal acumen. 
"I have used my engineering skills in numerous cases and I sincerely believe my engineering background prepared me well for my legal career," he said.
The human side of the law attracts him the most. "The ability to bring a positive difference in the lives of people in something that I love the most," he added.
He said youngsters in this country can take a lot of positive lessons from his appointment.
"The important thing for youngsters today," he said, "is to understand that the doors of opportunities are always open and they need to focus more on their accomplishments.
"The key, which is dedication, integrity, honesty and hard work, is in their hands.  Those were the values my parents instilled in me. Regardless of what kind of job you do and who you are, those are the kinds of qualities that count in the long run," he said.
He added, "This is the land of opportunity and the doors are not locked. When somebody is qualified and experienced for a certain job, people do not go along party lines. I had Republican and Democratic senators who supported me. It is a credit to the government that ensured that a person with the right qualification and experience, regardless of his background or religion, gets chosen. I must say the credit goes to the governor and the lawmakers."
Image: Sohail Mohammed | Photograph: Paresh Gandhi