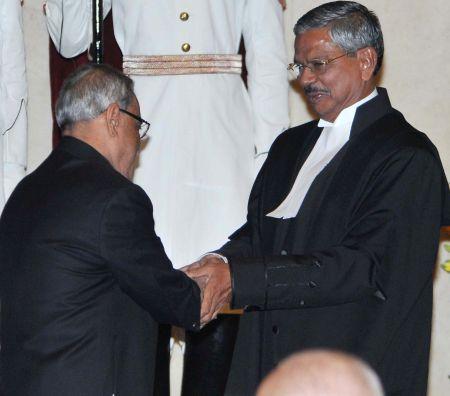 Justice Handyala Lakshminarayanaswamy Dattu was sworn in as the 42nd Chief Justice of India by President Pranab Mukherjee on Sunday.
Justice Dattu, 63, took oath in the name of God at a brief ceremony held at the chandeliered Durbar Hall of the Rashtrapati Bhawan. Vice President Hamid Ansari, Rajya Sabha Deputy Chairman P J Kurien, union ministers Rajnath Singh, Ravi Shankar Prasad, M Venkaiah Naidu, Ananth Kumar and Bharatiya Janata Party veteran L K Advani were among those present at the ceremony.
Congress leaders Abhishek Manu Singhvi and Rajeev Shulka were the only prominent opposition leaders who attended the programme.
Justice R M Lodha, who retired on Saturday as the CJI, senior judges of the Supreme Court, the High Court, retired judges and members of the Bar were also present.
Justice Dattu has been heading the bench monitoring investigations into the 2G spectrum scam. He will have a tenure of 14 months and will retire on December 2, 2015.
"I will request for blessing of all citizens of this country to give me courage and confidence to take this institution of mine to the highest stride," he had said earlier this month when the file relating to his appointment reached the Prime Minister's Office. "Mine is the best institution in the world," he had said.
He joined the Supreme Court as a judge in December 2008. Born on December 13, 1950, he enrolled as an advocate in 1975 and began practising in Bangalore and dealt with all types of matters -- civil, criminal, tax and constitutional cases.
From 1983 onwards, he appeared in various capacities before the Karnataka high court, including as a government pleader for Sales Tax department, standing counsel for Income Tax department and later as a government advocate. After being designated as a senior standing counsel for I-T department in 1995, Justice Dattu was elevated as a judge of the Karnataka high court.
He was elevated as the Chief Justice of the Chhattisgarh high court in February 2007 and shortly afterwards shifted in the same capacity to the Kerala high court.
He is the second apex court judge to take oath as the Chief Justice of India this year. Justice Lodha took oath in April this year.
Image: President Pranab Mukherjee greets Justice HL Dattu after he is sworn in as the new chief justice of India. Photograph: Press Information Bureau