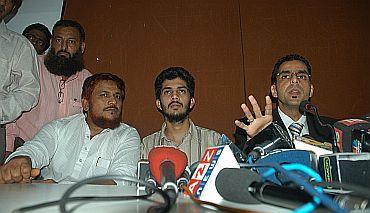 The media got it all wrong, proclaimed Mobin Solkar, lawyer for Abdul Sammad who was granted bail by a Mumbai court in connection with the Pune blast case, during a press conference in Mumbai on Tuesday.

Addressing media persons with his client, Solkar said Sammad was never arrested in connection with the Pune blasts case.
"All through the interrogation, my client was never arrayed as an accused in the Pune blasts case. Whatever appeared in the media regarding the Pune angle was wrong," he said.

Sammad, who was making his first appearance before the media following his release from jail, kept mum through the press conference.

Solkar also clarified Sammad's relationship with Yaseen, who the Mumbai ATS now terms as the prime accused in the Pune blasts case.

"Yaseen is not his brother as he was made out to be in the media," he said, adding, "Yaseen was living with his father in Dubai. In 2005, he had some dispute with his father and hence he left his family. Since then none of us have any clue as to where he is."

Sammad's lawyer refused to give out any details about his client's future course of action. He took objection to the fact that Bhatkal was being attached to Sammad's name.

"This is just the place he is from and it is not his surname," he said.

Following this, media persons posed questions to Sammad. But he chose not to answer them. He simply thanked the media and others for their support before being escorted out by his advocate.

Sammad will now return to his hometown in Bhatkal. The residents of this coastal town in Karnataka have planned a grand welcome for him, terming him as the 'son of Bhatkal'.
Image: Abdul Sammad (centre) with his lawyer Mobin Solkar (right) speaking to the media in Mumbai on Tuesday   Photograph: Sahil Salvi