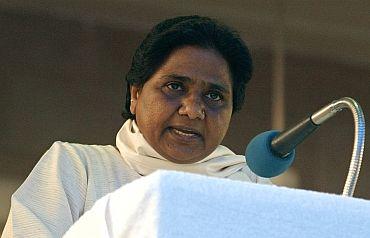 Bahujan Samaj Party chief Mayawati, who virtually arm-twisted the government to bring the quota bill for SC/STs, on Thursday slammed Congress for not doing any such thing because of which condition of these communities deteriorated.
Participating in a debate on the Constitution (117th Amendment) Bill, 2012 in Rajya Sabha, she said had the intention of the Congress government been clear on the issue, situation would not have deteriorated to the present extent.
The Congress ruled the nation for a long time but sadly the BSP has to explain to its members of Parliament the need for quota in promotions to SC/STs, she said.
"It is a matter of sadness....the truth is bitter. We only know how we could get the bill moved in a situation where under a planned conspiracy the bill was opposed. It is being portrayed as if it is for the first time that such a move has been initiated by the Centre, whereas the fact is such provisions existed but faced impediments," she said.
The bill, which would circumvent the Supreme Court order quashing such a decision of Uttar Pradesh government in April, is being pushed by Mayawati and reportedly was a condition for her support to the United Progressive Alliance on the FDI issue last week.     Mayawati cited various court verdicts due to which such promotions could be stopped in states like Maharashtra and Uttar Pradesh.
Advocating the need for promoting SC/ST communities, she said at the same time an impression is being created that the BSP is opposed to quota in promotion to those from backward classes.
The present amendment cannot include backward communities but if any such step is initiated later, BSP will support the bill.
"In fact, my party is also in favour of giving reservation to people from the upper caste who are economically weak," she said, urging political parties to support the bill during voting.