The former PM attack on the Modi government for its "disastrous policies" and "economic mismanagement".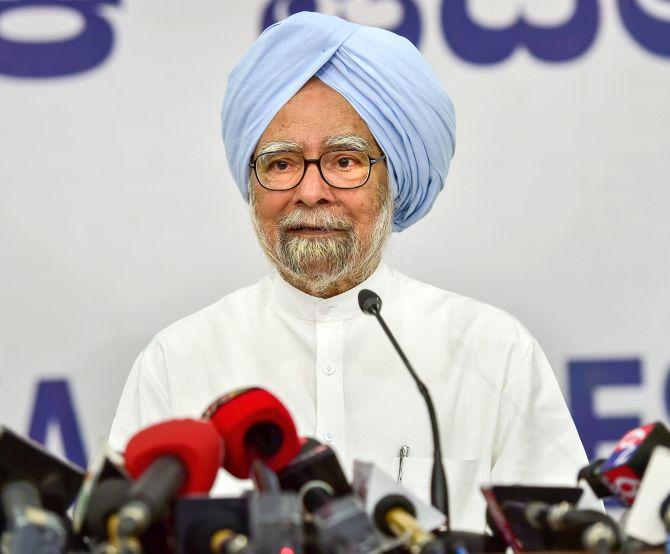 Accusing Prime Minister Narendra Modi of trying to "polarise" the society in the Karnataka assembly elections, his predecessor Manmohan Singh on Monday said it was "shocking" that he was "stooping so low" and using language that was unbecoming of a prime minister.
Singh castigated Modi for personalised attacks and said no prime minister had used the office to "say things about his opponents that Mr Modi has been doing day in and day out....It is not good for the country".
When asked about the campaign for the May 12 assembly polls in Karnataka, he said, "I am really sorry the way the state's population is sought to be....what can I say, polarised. This is not good for Karnataka. It's not good for the country as a whole.
"It is all the more shocking that the prime minister of India stoops so low and uses language which is unbecoming of a PM, particularly when he's in a state where elections are taking place," Singh told reporters in Bengaluru.
"No prime minister has used these election times to say things in a manner that Modi is trying to. I sincerely hope he will now learn the lesson and not seek to polarise our society, the way he is doing day in and day out," he said.
He said the outcome of the Karnataka polls would have an impact on national politics as it was one of the most prosperous states in the country.
He also launched a scathing attack on the Modi government for its "disastrous policies" and "economic mismanagement".
Singh attacked the government over a series of banking frauds, saying the money swindled almost quadrupled from Rs 28,416 crore in September 2013 to Rs 1.11 lakh crore in September 2017.
"Perpetrators of these frauds, meanwhile, escape with impunity. The economic mismanagement of the Modi government, and I say this with great care and responsibility, is slowly eroding the trust of the general public in the banking sector," he said.
"Our nation today is experiencing difficult times. Our farmers are facing an acute crisis, our aspirational youth are not finding opportunities, and the economy is growing below its potential," Singh said.
WATCH: Modi has 'stooped so low' it doesn't behove a PM'
He said the "unfortunate truth" was that each of these crises was "entirely avoidable".
"It pains me to see how rather than standing up to all these challenges, the government's response has been to stifle dissent when deficiencies are pointed out," he said.
Noting that economic policy has a significant impact on the lives of people, he said it was essential that those tasked with decision making pay careful attention to policies and programmes and not act on mere whims and fancies.
"India is a complex and diverse country and no one person can be the repository of all wisdom," he said in an apparent dig at Modi.
He said every time an answer was sought for any of the "disastrous policies" of the BJP government, "all we hear is that the intentions are virtuous".
Singh said the intentions of the Modi government which it claimed were good, had resulted in "massive" losses for the country.
"Its lack of reasoning and analysis is costing India and our collective future."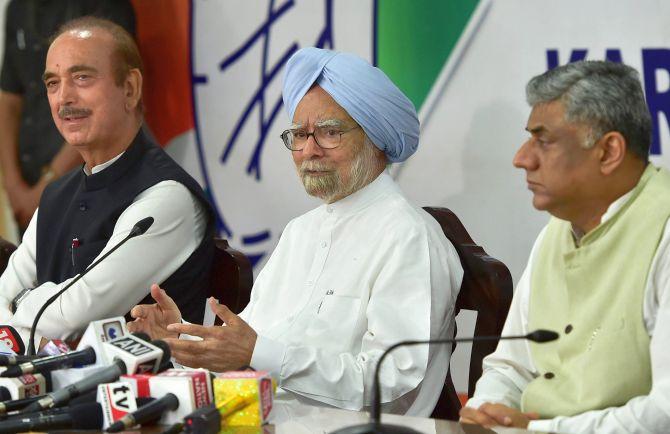 Reponding to a question, Singh said there were many reasons why the economy was "off the rail".
He said investment under the UPA government had gone up to 34-35 per cent of the GDP but it was a "casualty" under the Modi dispensation. If investment does not grow, there cannot be sustainable growth, he said, adding employment generation would also suffer.
Inadequate investment, he said, was the "single biggest weak point" in the management of the economy under Modi.
Singh alleged attempts were made to change data about growth rate.
The Modi government, he alleged, was making deliberate efforts to paint a "rosy" picture of the economy that was not backed by hard facts.
Talkinng about non-performing assets of public sector banks, he said it was easy to blame everything on the UPA or the 70 years of Congress rule.
He said the "phenomenal" growth in NPAs after 2013 was a "telling picture" of the truth.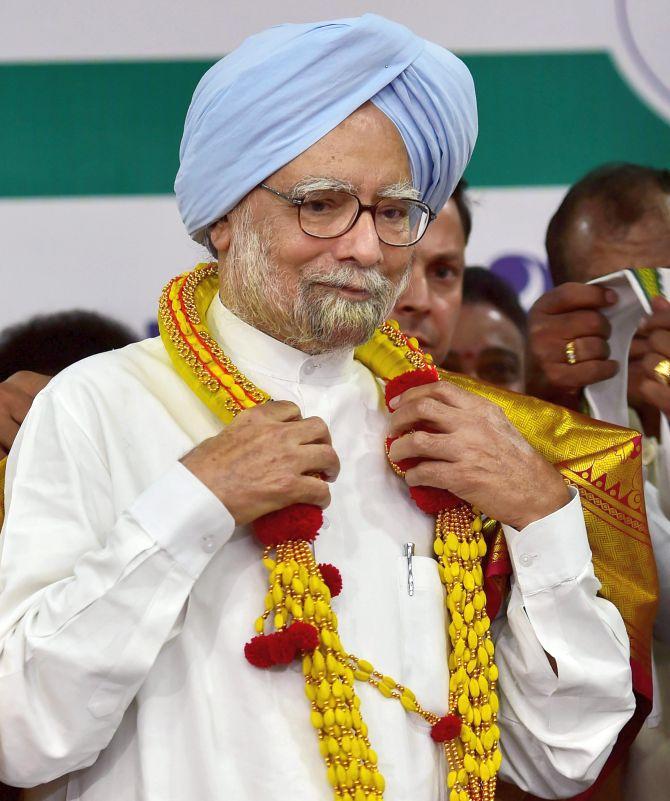 About absconding diamantaire Nirav Modi, Singh said, "It was obvious in 2015 and 2016 that something is going wrong with the affairs. And yet the Modi government didn't do anything. If any blame needs to be passed, it has to be on the government of the day."
"In fact, the prime minister was in Davos in the company of Nirav Modi. Only a few days later, he ran away. That itself is a reflection of the sad state of affairs."
When asked about RBI facing criticism, Singh, a former governor of the central bank, said," It is unfortunately being talked about openly now that RBI cannot be trusted to even count returned notes. That has never happened before."
The former prime minister said he hoped that RBI management would give credible answers to those questions.
Claiming that income tax raids had become the "daily routine" of the Modi government, he said the business community was unhappyabout the raids that were conducted "without provocation, rhyme or reason", adversely affectingthe climate for investment.