What shocked Kan was the news that a prominent personality in his neighbourhood led the ransacking of his house and its torching later.
Sushmita Goswami/PTI reports from Guwahati.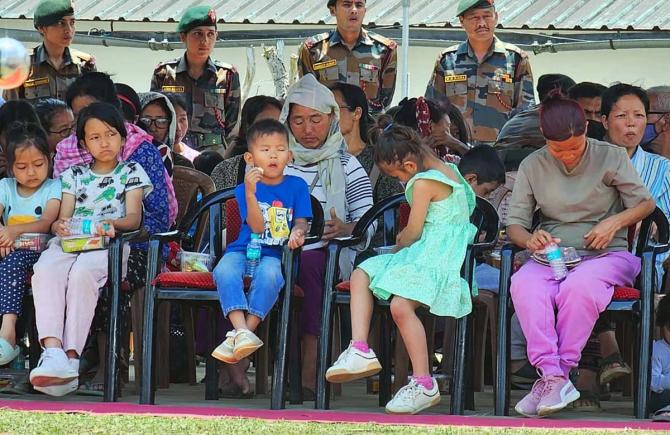 It has been ten days since one of the worst ethnic clashes broke out in Manipur, but for those who fled its capital Imphal to escape the violence the memories are still raw and painful.
Many of the survivors, who have fled Imphal to stay with their relatives in Guwahati, say their homes have been destroyed during the violence and they have no place to return to.
Their stories are filled with an unmistakable sense of loss and deep sadness due to the violence, the loss of their homes and the difficult time they spent in relief camps.
Some of them even recounted locking themselves in their homes with mobile phone torches as the only source of light.
The clash between the Meiteis and Kukis in Manipur has claimed 60 lives so far. It left thousands displaced, homes razed to the ground and places of worship destroyed.
Gina, who is in her in the late 50s, said she is among the "lucky" few to have fled from violence-torn Imphal and is almost resigned to her fate. She was witness to violent ethnic clashes in her home state for the second time in her adult life.
A younger Kan Zou said he and family members are practically facing a "homeless" existence. His family of four does not know where to return to as their house was torched during the violence.
Mimi, a young woman, said she cannot even think of returning to her home in Imphal. Her husband is still away at trouble-torn Churachandpur, where the violence first erupted on May 3, on work. She is left with the task of looking after her young daughters in a different city.
All of them, whom a PTI reporter met in Guwahati, hail from Churachandpur but stay in Imphal for work. Their names have been changed as wanted by them.
The violence had erupted in Churachandpur during a rally demanding Scheduled Tribe status for the Meiteis, the dominant ethnic group in Manipur.
"I had first witnessed ethnic clashes in Manipur way back in 1997. I was a newly-wed then and lived in my home district Churachandpur," Gina told PTI, fear and nostalgia writ large on her face.
"This time a cousin alerted us on the evening of May 3 and asked us to seek safe shelter. But my family and I did not pay heed and spent that night in the house of our Meitei neighbour," she said.
By the next morning, the situation had deteriorated and Gina and her family of three members immediately decided to seek refuge at the CRPF camp. Even the breakfast she had cooked for the family was left untouched.
"There were thousands already in the camp when we reached it around 11 am on May 4. Many more people were pouring in steadily. We slept on the grass under the open sky as the rooms were so full that a stampede seemed imminent any moment.
"Water in the toilets ran out fast. Food was limited. We were terrified when some locals in the surrounding areas belonging to another community tried to attack the camp. When they were prevented, they banged on electric poles and shouted insults to initmidate us," Gina, who is a government employee like her husband, said.
Kan said he had left his house with his wife and their two children also on May 3 night and took shelter at his brother's residence. He later took refuge at the CRPF camp.
"We left without anything, not even a change of clothes. We never thought things will become so bad," he said.
What shocked Kan was the news that a prominent personality in his neighbourhood reportedly led the ransacking of his house and its torching later.
"My Meitei friends who live in the neighbourhood informed me that my house was first looted and then set on fire on May 5. They were helpless as they would have been targeted had they tried to intervene in any way," he said.
Kan rued that government inaction led to the torching of his house two days after the violence erupted.
"I have a job there. My eldest child, who is about four years, has just started school. Where do I go now even if I want to return?" he asked, his voice plaintive.
Mimi had huddled inside a room of her house with her children and domestic help as stones were thrown for nearly an hour at their residence in a high-security zone in Imphal on May 3.
"We stayed the night at a neighbour's place. From May 4 we remained locked inside our own house, cooking and eating with the light of our mobile phones. We managed to reach the airport somehow on May 7 and flew out on tickets arranged by our relatives here," she said.
Her husband is on duty in Churachandpur, about 65 km from Imphal, and their two daughters are constantly asking for their father.
"They asked me why their father has not come to rescue them. I told them that he had sent people, but they were attacked on the way. We are hoping to reunite with him soon," she added.
Almost all those who fled Manipur blame the political leadership for the ethnic flare-up.
Right over land and the demand for reservation are the core issues. To add to it, politicians are using a divide and rule policy. If leaders start dividing their own people, how can there be peace?", Gina asked.
"The political leadership is to be blamed. We are facing the burnt," said Kan.