The Manipur government on Thursday constituted a committee to verify complaints of alleged use of excessive force on protesters, mainly students, by security forces here over the last two days, an official order said.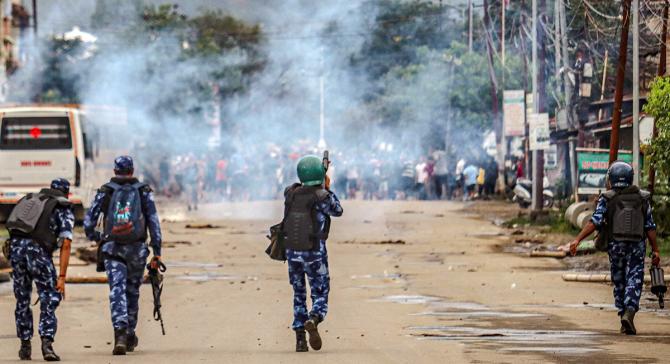 The order issued by the DGP said, "There have been various reports/allegations of use of excess force by the security forces to maintain law and order over the last few days in Imphal area."
The committee will be headed by IGP (administration) K Jayanta, the order said, adding that it will "submit the report at the earliest."
Violent protests rocked Manipur's capital for two days on Tuesday and Wednesday as thousands of students protested the kidnapping and killing of two youths, pictures of whose bodies had gone viral.
On Tuesday night, a clash occurred between Rapid Action Force personnel and locals over the murder of the duo, prompting the law enforcers to lob tear gas shells and fire rubber bullets at the agitators and baton-charge them, leaving 45 of the protesters, mostly students, injured.
On Wednesday, around 20 protesters were injured in similar clashes with security forces.
Meanwhile, the Coordinating Committee on Manipur Integrity has condemned the "brutal act of RAF and security forces" against student protesters on Wednesday and termed it as a "violation of human rights."
Two school students were badly injured after being hit by "multiple pellet bullets" fired by security forces during the students' protest rally against the killing of the two youths.
One student had more than thirty pellets lodged on the back of his head while another had his shoulder torn open after being hit by a lethal weapon, hospital officials told reporters.