Violent protests over the death of two youths in Manipur continued till the early hours of Thursday with a mob vandalising the deputy commissioner's office in Imphal West and torching two four-wheelers, officials said.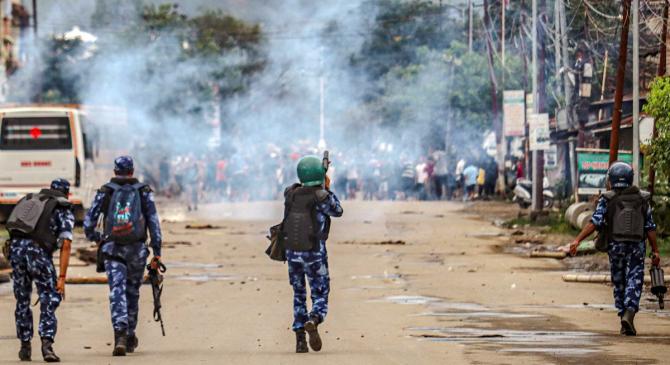 A fresh bout of violence, this time led by students, broke out in the state capital on Tuesday after photos of the bodies of two youths who went missing in July went viral on social media.
On Wednesday night, the protesters clashed with security personnel in Uripok, Yaiskul, Sagolband and Tera areas, prompting the forces to fire several rounds of tear gas shells to control the situation, officials said.
The protesters blocked roads with burning tyres, boulders and iron pipes to prevent the security forces from entering residential areas, they said.
A mob also vandalised the DC office and torched two four-wheelers.
CRPF personnel brought the situation under control, they added. Curfew was re-imposed in the two districts -- Imphal East and West -- as the security forces combatted the violent protests, which saw 65 demonstrators being injured since Tuesday.
Meanwhile, a BJP office at Khongjam in Thoubal district was set on fire, police said.
In a statement, the Manipur Police said that a mob targetted a police vehicle and burnt it, while assaulting a policeman and snatching his weapon.
Stern action will be taken against those indulging in such crimes, it said, adding that a search operation was underway for the recovery of the snatched arms and the arrest of the accused.
The Manipur Commission for Protection of Child Rights, meanwhile, urged the security forces not to use lathi-charge, tear gas shells and rubber bullets 'arbitrarily and abruptly' against teenagers.
More than 180 people have been killed and several hundred injured since ethnic violence broke out in Manipur on May 3, when a 'Tribal Solidarity March' was organised in the hill districts to protest against the majority Meitei community's demand for Scheduled Tribe status.
Meiteis account for about 53 per cent of Manipur's population and live mostly in the Imphal valley, while tribals, including Nagas and Kukis, constitute 40 per cent and reside mostly in the hill districts.