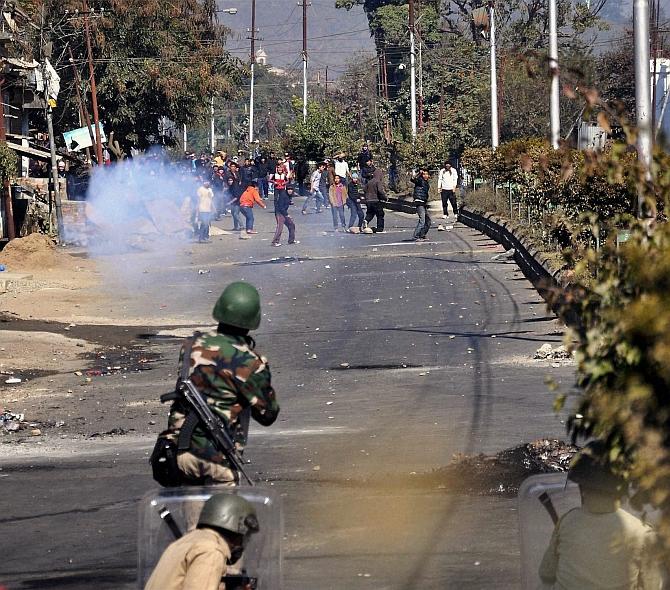 The over three-month-long economic blockade in Manipur is likely to end soon with the Union Home Ministry saying 'substantial progress' has been made in the talks held on Friday with the Manipur government and a Naga group spearheading the agitation in the poll-bound state.
The tripartite talks, among the officials of the Centre, the Manipur government and representatives of United Naga Council, were successfully organised in New Delhi. The ministry successfully brokered the talks and the economic crises will end soon in Manipur, official sources said.
They said an agreement in this regard has been reached between the agitating Naga group and the state government which is likely to be signed shortly.
The key National Highway number 2 (NH 2) is blocked since November 1 by UNC cadres leading to normal life being severely affected there. The Council is protesting against creation of seven new districts in the state.
"A meeting to formally sign the accord to end the crises has been called on Tuesday and it is hoped that the blockade would end soon after that," a source said.
A late-night statement issued by the Union home ministry said there was 'substantial progress' on the issues in the talks.
"The issue of creation of 7 new districts and the ongoing economic blockade was discussed in a tripartite meeting today at New Delhi between UNC, the government of Manipur and the government of India. There was substantial progress on the issue in the talks. A few points needed further discussions at their organisation level.
"Next tripartite meeting is expected on 7th Feb, 2017 on the issues," it said.
Friday's meeting was attended by UNC president Gaidon Kamei and the Council's information secretary Sangkhel Stephen, both of whom are lodged in Imphal central jail since January after Manipur police arrested them on November 25 last for leading the indefinite blockade.
Both the leaders were brought to the North Block in police custody for the talks which were led by Satyendra Garg, joint secretary, home ministry.
The talks continued for over five hours, the sources said.
Due to the blockade, normal life in Manipur has been badly affected and prices of essential commodities have sky rocketed.
Polling for the 60-member Manipur assembly is scheduled to be held on March 4 and March 8.
The personnel of Assam Rifles are deployed is deployed along the Indo-Myanmar border and deal with insurgents in the northeast.
Union Home Minister Rajnath Singh had twice written to Manipur Chief Minister Okram Ibobi Singh to ensure reopening of the National Highway. Minister of State for Home Kiren Rijiju had visited Imphal recently to convey the Centre's concern over state government's failure to reopen the NH-2.
However, despite the central government's initiatives and sending around 7,000 paramilitary forces, the highway continues to be seized by the UNC since November.
Image for representation only.