Fresh clashes broke out between security forces and protesters in certain pockets of Imphal West on Friday night after one of the five defence volunteers released on bail by a special court in Imphal earlier in the day was re-arrested by a central security agency, officials said..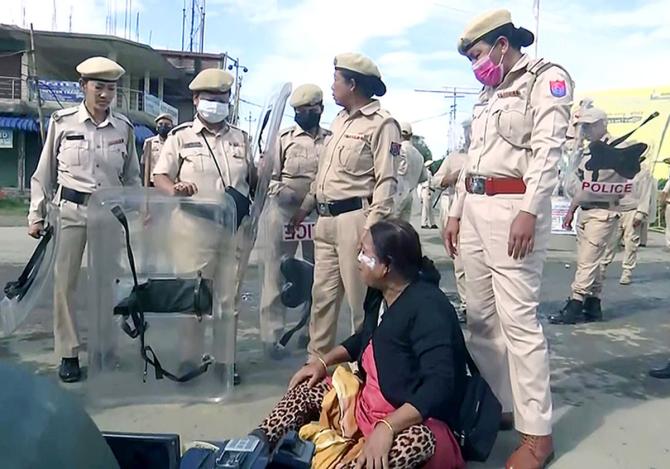 There was, however, no official confirmation about the status of the re-arrested youth, officials added.
While four arrested youth were handed over to their family members after being granted bail, Moirangthem Anand, a former cadre of the banned People's Liberation Army, has been re-arrested, they said."
Anand's wife, who broke down in front of Imphal police station, said, "I have been told by police that my husband has been arrested in connection with a previous case which is more than 10 years old."
One of the released village defence force volunteer identified as L Michael told reporters, "Though four of us were released from the lock-up, Anand was whisked away by few officials. That's the last time we saw him."
The police had recovered one INSAS rifle with 78 rounds of ammunition from Anand when they arrested him along with four others on September 16 at Kongba in Imphal East district.
Meanwhile, security forces including Rapid Action Force personnel fired several rounds of tear gas shells to disperse protesters at Kwakeithel stretch, Singjamei and Uripok in Imphal West district. Protesters burnt tyres on the middle of the road in protest against the government and the police.
Earlier in the day, a special court in Imphal had released the five youth on bail upon furnishing of PR bond of Rs 50,000.
In its order, the court said the five accused "shall co-operate with the investigation", make themselves available before the investigating authorities and "not influence prosecution witnesses."
The court also directed the youths "not to leave the state of Manipur without its prior permission."
Rejecting the remand prayer of the Manipur police for judicial custody, the court said, "All the accused persons have not yet committed any prejudicial activities against the state till the time of the arrest."
Defying curfew restrictions, hundreds of women sat in front of the Cheirap court premises in Imphal West district, where the hearing was held demanding the release of the five youths.
The state had witnessed widespread clashes between security forces and protesters on Thursday after demonstrators attempted to storm police stations as part of "court arrest agitation" over the government's failure to release the five youths.
The five were arrested by the Manipur police on September 16 for possession of weapons and donning camouflage uniforms. They were later produced before the judicial magistrate in Imphal East which remanded them to police custody till Friday.